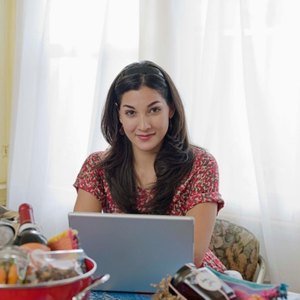 •••
Jupiterimages/Brand X Pictures/Getty Images
A provider of office and business supplies to individuals and businesses all over the country, Staples is a national brand. At Staples you can shop for offices supplies, such as desks, computers and printers as well as small office supplies; you can make your purchases in-store or online. Staples accepts several methods of payment including credit card, cash and check. The store also offers a Staples credit card to qualified customers.
Purchase Payment Methods
Pay for your online Staples purchase with your Visa, MasterCard, Discover, American Express or Staples credit card. During the checkout process you will enter your name, billing address, shipping address and your credit card information. You need to enter your credit card number, expiration date and the three digit security code on the back of your credit card. Finalize your payment by confirming your information and submitting your order.
Make an in-store purchase payment with cash. Take your purchases to a checkout counter and give the cashier enough cash to pay for your bill.
Pay in-store with a check. Checks are payable to "Staples". You must provide photo identification to write a check in Staples.
Credit Card Payments
Make a one time Staples credit card payment online for same day credit to your account. Log in to your Staples account and click on the "Pay My Bill" link. Choose your payment amount, the date you want your payment debited from your bank account and enter your bank account number and your bank routing number. Confirm your information and submit your payment to Staples.
Mail your Staples credit card payment. Remove the pay stub from your monthly billing statement and write a check. Make your check payable to "Staples" and place your check and pay stub in the envelope provided with your monthly statement. You may pay your balance in full or you can choose any payment amount as long as it is at least the minimum amount due. Mail your envelope seven to 10 days prior to your payment due date. The address to mail your payment is on the front of your envelope.
Enroll in automatic payments. When logged in to your Staples account, choose the "Automatic Bill Pay" option. Provide the bank account number and routing number you want your payment deducted from and choose a payment date and amount. Confirm your information and submit it to Staples.
References
Writer Bio
Tiffany Raiford has several years of experience writing freelance. Her writing focuses primarily on articles relating to parenting, pregnancy and travel. Raiford is a graduate of Saint Petersburg College in Florida.