How to Make a Payment on Medicare Part B Fees
by Karen Farnen ; Updated July 27, 2017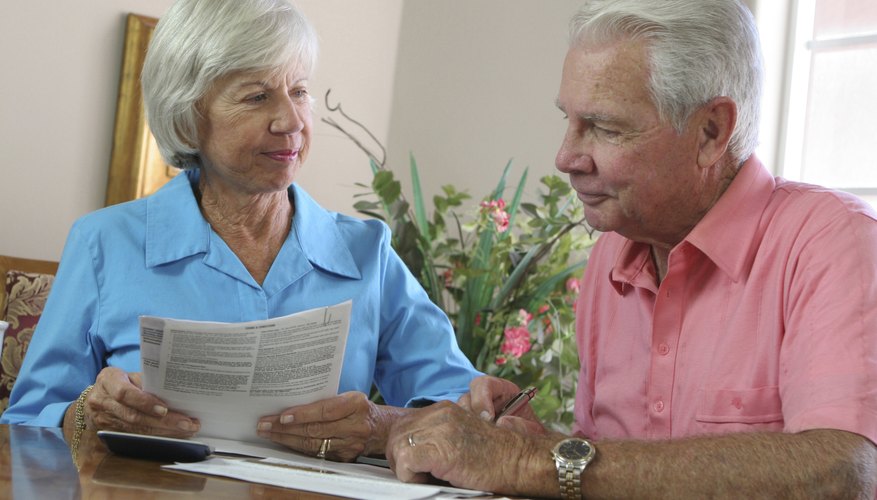 You can pay Part B premiums through the mail or by setting up automatic deductions from your credit union or bank account. Payment by email isn't available. In any case, many retirees don't have to do anything to pay their Part B premiums. If you receive a federal pension, Medicare usually deducts the premiums from your retirement benefits.
Use Automatic Pension Deductions
People with automatic deductions for Part B premiums receive a monthly statement marked "This is not a bill" in the upper right corner. If you get this type of notice, you don't have to pay anything. The government typically deducts Medicare premiums from Social Security, federal civil service or railroad retirement benefits.
Some civil service retirees might have to ask to have the Part B premiums deducted, according to the Social Security website. If you want to start automatic deductions from your pension, email your request to OPMMailbox@cms.hhs.gov.
Pay by Mail
You can pay Part B premiums through the mail by check, money order or credit card, but not cash. Fill out the payment stub on your bill and enclose it with your payment. Include the amount paid and your credit card information, if applicable.
If your bill comes from the Railroad Retirement Board, mail the payment to: RRB, Medicare Premium Payments, P.O. Box 979024, St. Louis, MO 63197-9000. For a bill from Medicare, send the payment to: Medicare Premium Collection Center, P.O. Box 790355, St. Louis, MO 63179-0355.
Enable Bank Account Transfers
Sign up for Medicare Easy Pay if you want to have your Part B premiums deducted from your bank account each month. Download and print Form SF-5510 from the Center for Medicare & Medicaid Services website.
Complete the form with your personal information, Medicare account number and checking or savings account information. Mail the signed form to: Medicare Premium Collection Center, P.O. Box 979098, St. Louis, MO 63197-9000.
Processing may take as long as eight weeks. When automatic deductions are working, your monthly statement will say "This is not a bill, " and you'll see the deduction as "Automated Clearing House" on your bank statement.
If You Don't Have the Money
You can get help paying Part B premiums from the state if you can't afford them. Three programs are available: the Qualified Medicare Beneficiary Program, the Specified Low-Income Medicare Beneficiary Program and the Qualifying Individual Program.
For example, as of 2015 the Qualified Medicare Beneficiary Program helps pay Part B premiums for people with limited assets and a monthly income up to $1,001 for individuals or up to $1,348 for couples. The income limits may be higher if you work, and they're also higher in Hawaii and Alaska. The other two programs have higher limits as well. Apply through your state Medicaid office.
Photo Credits
Purestock/Purestock/Getty Images