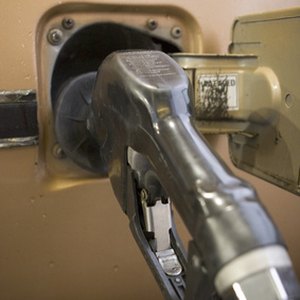 There are several easy ways to pay your Chevron credit card. The cards are actually issued by GE Money Bank, which says it services accounts for more than 50 million people holding a variety of credit cards. GE Money purchased Chevron's credit card business in 2007. Payments for the Chevron card are made payable to Chevron, but GE Money handles the transaction.
Make your payments by sending a check or money order by standard mail to the address on your billing statement. Or call the number on the back of the card for the address. Write your account number on the check or money order.
Enroll online at the Chevron/Texaco cards website. Enroll using your email address and account number. Begin by clicking on "Register Here" on the homepage to begin the process. Then follow the prompts to continue.
Return to the site after creating your username and password during the registration process. Click on "User ID" to log in and make a payment. When prompted, enter the checking account number you would like to use for the payment. You'll need your checking account number's routing number and account number. The nine-digit routing number appears at the bottom left of your check, and the account number is the group of numbers to the immediate right of the routing number.
Continue following the prompts to enter the amount and the day you want the funds withdrawn from your checking account.
Use the telephone to make a payment if you'd rather not pay by mail or online. Simply call the number on the back of your card and give your checking account information. The money will be withdrawn from your account on the day you specify.
References
Writer Bio
Robert Lee has been an entrepreneur and writer with a background in starting small businesses since 1974. He has written for various websites and for several daily and community newspapers on a wide variety of topics, including business, the Internet economy and more. He studied English in college and earned a Bachelor of Arts in liberal arts from Governor's State University.