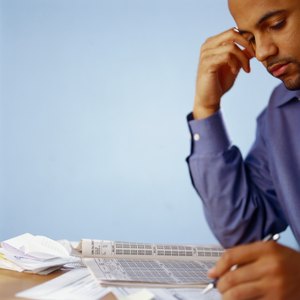 •••
Ryan McVay/Photodisc/Getty Images
When federal income tax time rolls around you might have a couple of different reactions. If you're expecting a fat refund check, you might be excited about it. If you owe the IRS money, you'll probably be less exuberant. Either way, you need your W-2 to show your income and withholding amounts. If you've lost your W-2, you still need to file your tax return by the due date to prevent a late filing penalty.
Request a Duplicate
If you've lost your W-2, your employer can usually provide you with a duplicate copy. Contact your employer's payroll or accounting department and request a duplicate W-2. Make sure the mailing address your employer has on file is correct and complete. Inquire about the time required for the duplicate W-2 to be sent. If the W-2 doesn't arrive in a reasonable amount of time, get back in touch with your employer to see if the process can be expedited.
Ask For Help
If your employer can't or won't provide you with a duplicate W-2, the Internal Revenue Service might be able to help. The IRS will need your personal information, including your name, address and social security number as well as contact information, such as your telephone number. You'll need to give them as much information as possible about your employment situation, including your employer's name, address and contact information. Wage and withholding information from your most recent pay stub will also come in handy.
Request An Extension
You must file your federal income tax return by the due date, usually April 15 each year, or you'll get hit with a late filing penalty. If you've lost your W-2 and it looks like there might be a delay in getting it replaced, consider requesting an automatic extension. This will give you an additional six months to file your tax return without incurring a late filing penalty. Getting an extension to file doesn't give you an extension to pay. If you owe taxes, you need to pay them by the original due date, or you'll have a late payment penalty.
Substitute W-2
You can file your return using Form 4852 as a substitute for your original W-2. Complete the Form 4852 using wage and withholding information from the last pay stub of the year from that employer. The IRS might need to verify the information you provided, resulting in a delay in processing your refund. You might receive your duplicate W-2 after you file your return using Form 4852. If the information on your W-2 is different from the information you reported on Form 4852, you'll need to file an amended return using Form 1040X.
References
Resources
Writer Bio
Mike Parker is a full-time writer, publisher and independent businessman. His background includes a career as an investments broker with such NYSE member firms as Edward Jones & Company, AG Edwards & Sons and Dean Witter. He helped launch DiscoverCard as one of the company's first merchant sales reps.