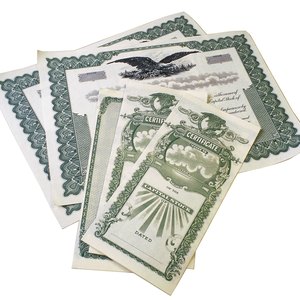 •••
Comstock/Comstock/Getty Images
If you have a paper U.S. savings bond, you can look up the value on treasurydirect.gov with the bond's serial number or other purchase details. If you have an electronic bond, you can log into your TreasuryDirect account to see its worth. To perform a savings bond serial number lookup, you need a few key pieces of information.
Looking Up the Value of Paper Savings Bonds
While Series EE bonds are only available for purchase as electronic bonds, you can still cash in paper savings bonds for their entire value or you can convert them to electronic bonds. New Series I savings bonds can still be purchased as paper or electronic.
Using the Paper Savings Bond Calculator, you can look up the value of a paper bond on the Department of Treasury's website to find current value, past value, maturity date and total earned interest.
To find the current value of a bond in general, you need to know the bond series, denomination and issue date.
Where to Find the Details of a U.S. Savings Bond
‌Series‌: Top right corner.
‌Issue date:‌ Top right corner, just under the series number. This helps you calculate the maturity date and know if the bond is still paying interest.
‌Serial number:‌ Bottom right corner.
‌Denomination:‌ Top left corner; this is also called the par value or face value.
‌Bond owner information‌: Name and address printed on the body of the bond.
‌Co-owner information‌: Appears under the owner information.
If you want to verify your bonds, guarantee that your serial number is valid and ensure that your bond is eligible to be cashed, see your bank or credit union or visit the Department of the Treasury's website at www.treasurydirect.gov.
TreasuryDirect says you can also contact the U.S. Treasury Retail Securities Services about savings bonds by phone at ‌(844) 284-2676‌ or by mail at P.O. Box 9150, Minneapolis, MN, 55480-9150.
Having an inventory of the serial number, issue date and complete ownership information of each bond you own is essential in the event your paper bond is lost, stolen or destroyed. Once your old bond is validated, you will receive a reissue in electronic form or may receive the bond's value in cash if it is eligible for cash out.
Looking Up Electronic U.S. Savings Bonds
With a TreasuryDirect account, it is easy to look up your U.S. savings bond. Just log in and follow the prompts to find accurate results for the value of your bond.
Using Treasury Hunt to Find U.S. Savings Bonds
The U.S. Treasury Department has an online search tool to help you find matured savings bonds that have never been cashed or missing interest payments owed to you on savings bonds or treasury securities.
Log into TreasuryHunt.gov and enter your Social Security number and state to locate unredeemed bonds or securities that match your information. The data is updated each month.
Common Questions About U.S. Savings Bonds
How Many Types of Savings Bonds Are There?
Two types of U.S. Savings Bonds are available for purchase: EE bonds and I bonds. Series EE bonds must be purchased through a TreasuryDirect account. Series I bonds can be bought on the TreasuryDirect website or with your IRS tax return refund when you pay federal taxes.
Series EE bonds are guaranteed to double their value in ‌20 years‌ and earn a fixed interest rate, while I bonds earn a fixed rate and a second rate based on inflation. There is no guaranteed return on I bonds. The TreasuryDirect website offers a side-by-side comparison of other features of the bond types.
Series E bonds are older bonds that have stopped earning interest but may be redeemed at a financial institution.
Can I Look Up a Savings Bond With My Social Security Number?
If you are looking for unredeemed bonds, you can do so on the TreasuryDirect website with your Social Security number and ZIP code. If you want to find the value of savings bonds you purchased but do not have the serial number, you can search with the date of purchase, your Social Security number, full name and address.
References
Writer Bio
I hold a BS in Computer Science and have been a freelance writer since 2011. When I am not writing, I enjoy reading, watching cooking and lifestyle shows, and fantasizing about world travels.