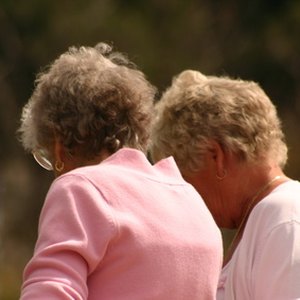 A long-term care insurance policy pays for services needed by the insured person on a daily basis. These services, which are not covered by standard health plans or Medicare, are provided to help insured individuals in their homes and care facilities with basic activities such as eating. However, long-term care plans exclude some services. Individuals who have certain health conditions are denied long-term care insurance coverage as well.
Taxes and Long-Term Care Plans
There are two types of long-term care plans: tax qualified and non-qualified. Both plans pay out tax-free benefits; however, owners of tax-qualified plans can deduct premium payments if they exceed 7.5 percent of their adjusted gross incomes. Premium payments are not deductible under non-qualified plans. Long-term care benefits are triggered once the insured person needs help with activities of daily living, which are transferring, dressing, bathing, continence, toileting and eating. Benefits under tax-qualified plans are triggered when the insured person needs help with two or more activities of daily living while some non-qualified coverages may not have activities of daily living-assisted requirements for benefits to be paid.
What's Covered
Many types of care and services are covered under long-term care policies. These services, which are provided in the insured person's home, include skilled nursing care; housekeeping services; meal preparations; occupational, physical and speech therapy; hospice; and respite care. Services provided in nursing homes, assisted living facilities, and adult day care centers are also covered. Home remodeling projects, transportation expenses and equipment purchases may be covered under long-term care plans.
What Is Not Covered
Long-term care plans come with many exclusions, which are listed in the policies after they are purchased and in the Outline of Coverage handed to individuals before they apply. Some of the exclusions are care or services for drug addictions and alcoholism and from injuries that are self-inflicted or from suicide attempts or war. These plans also don't cover services performed outside the United States, in government facilities, or by family members who are not trained or licensed to provide care.
Who Is Not Covered
Individuals with certain medical conditions cannot be insured for long-term care coverages. These plans do not cover applicants who have AIDS, Parkinson's disease, Alzheimer's disease and metastatic cancer. Long-term care coverages are also not extended to individuals who have histories of strokes, are currently using long-term care services or need help with the activities of daily living at the time of application.