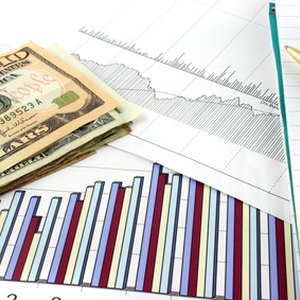 •••
business charts with us money image by Andrew Brown from Fotolia.com
Investing in the stock market can be profitable for those with insight and patience. Most amateur investors have what is called a "cash account." A cash account allows the investor to buy and sell stocks with money he has available in his account. Buying and selling the same stock in the same trading day is called a day trade and is only permissible after the requirements set by the Securities and Exchange Commission are met. The time frame between and buying and selling stocks varies by investor account type.
Cash Accounts
A cash account holder may buy stocks only with the money she has readily available. They may be multiple stocks in the same day as long as money is available to use. If an investor decides to sell a stock, there is a three-day period for the money to settle. This means the investor may not use the profit she has made from a sale to buy the same stock again until the three-day settlement period is up, though the investor may purchase a different stock. Cash account holders are also not permitted to day-trade more than three times in a trading week.
Margin Accounts
Margin account holders have the ability to borrow funds from their broker to purchase stocks up to the amount they have available in their account. For example, a $1,000 balance will allow the investor to borrow $1,000 from her broker to purchase a stock, giving her $2,000 in buying power for the purchase. The trade transactions are instant, and the money is debited from the trader's account. The three-day settlement rule also applies to margin accounts. Margin accounts also fall under the same rules as cash accounts in regard to day trading.
Day-Trading Accounts
Day traders have special rules regarding their accounts and settlement issues. Day traders need to have a minimum balance of $25,000 maintained in their account at all times. They are allowed to buy and sell the same stock within the same trading day with no settlement restrictions. If their account were to drop below the minimum balance requirement, they will have a small period of time to meet the requirement, or their account will be frozen for 90 days. Day trading allows the investor to enter and exit stock positions quickly.
Warning
Though all stocks traded on a cash and margin account are subject to the three-day rule, most brokers allow the same stock to be purchased and sold on the same day. An investor is allowed up to three day trades in a five-day trading period without sanctions. If an investor goes three day trades within the five-day period, their accounts may be subject to a 90-day restriction. This restriction means the investor will need to call in orders if they are using an online broker instead of placing the orders through their online accounts.
Other Investing Options
Though cash and margin accounts have the three-day settlement rule, futures trading does not have this restriction. Accounts can generally be opened for a lower minimum balance. Traders are allowed to buy and sell futures within the same day with no penalties. Investors interested in mutual funds will have a one-day settlement period, and bonds trading may be performed within the same business day.
References
Writer Bio
Jeff Woodward has been writing since 2007, mostly for "Macabre Cadaver" Magazine, conducting interviews and movie and music reviews. Demand Studios has allowed Woodward to enter the nonfiction article writing market. Woodward's experiences as a parts manager in the trucking industry allow him to write articles for eHow.