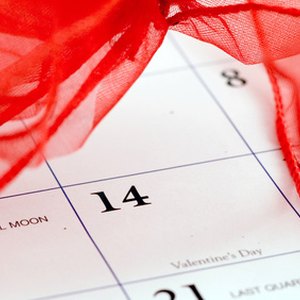 •••
calendar with bow image by Photoeyes from Fotolia.com
Bankruptcy is a legal process governed by the United States Bankruptcy Court. Bankruptcy can help consumers dig themselves out of a financial hole. Common reasons for filing bankruptcy include job loss, to halt foreclosure proceedings, large medical expenses and to stop garnishments. A 2005 study from Harvard University found that more than half of people file bankruptcy due to medical bills.
Consumers
There are two types of bankruptcy for consumers, chapters 7 and 13. Chapter 7 discharges most of your debts. Debts that cannot be discharged through bankruptcy include child support, most student loans and most criminal fees or restitution. Chapter 13 bankruptcy will reduce your debt but the court will put you on a payment plan where you will pay off certain creditors. While bankruptcy is designed to aid consumers, there are limits on how often you can file.
Guidelines
The federal government governs the bankruptcy process. Each time someone files bankruptcy, businesses must cease collecting the debt and, in some cases, write the debt off. Time limits between filings offer some protection to creditors who often lose money when you file. A means test will help the court determine whether you're eligible for a Chapter 7 or 13 filing. The test looks at your average income for the past six months as well as mortgage and car payments, any back taxes and past due support payments.
Time Limit
Bankruptcy law does not limit the number of times a person can file only the amount of time between filings. Chapter 7 bankruptcies must have eight years between the discharge date and new filing. Chapter 13 follows a different criteria. Since you are placed on a repayment plan, a new Chapter 13 case can be filed in as little as two years.
Expert Advice
If you have received a Chapter 7 discharge and find yourself in a financial bind, you may be entitled to file a Chapter 13 bankruptcy if four years have passed. Consult a bankruptcy lawyer to determine your eligibility. In some cases you can file a new Chapter 13 before your previous Chapter 13 is discharged. It also is possible to convert your case to a Chapter 7 if your financial situation has drastically changed.
References
Writer Bio
Living in Denver, Lynndee Marooney has been writing finance and credit-related articles, guides, manuals and e-books for private companies since 1995. She holds a Bachelor of Arts in journalism and a Bachelor of Science in finance from the University of Maryland. She enjoys counseling clients who are experiencing financial difficulties.