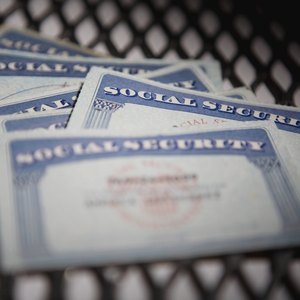 •••
Glowimages/Glowimages/GettyImages
If you are considering retiring from the workforce in the near future, one of the most important things you'll need to know is how long it will take for you to start receiving your Social Security retirement benefits after you apply for them. While it generally takes approximately six weeks for an application to be processed, it is advisable for you to initiate the process three months before you want to receive your first benefit payment.
It usually takes around six weeks to process your Social Security application for retirement benefits, but applying a few months before you need your payments is recommended.
Three Ways to Apply

You can apply for your Social Security retirement benefits in one of three ways. You can complete an application online, over the phone or in person by visiting your local Social Security office. The Social Security Administration estimates that it will take approximately 15 minutes to complete an application using your computer.
It will take longer to complete your application over the phone or in person because you will ordinarily need to make an appointment for a Social Security representative to take your application. If you live outside the United States and its territories, and are eligible to receive Social Security retirement benefits, you can apply to receive them by contacting the closest Social Security office, U.S. Embassy or consulate.
Online Application Process

If you decide to apply for your benefits online, you will be able to save your application if you are unable to finish it in one sitting. If you remain on one of the application's pages for more than 25 minutes without activity, you will have two successive warnings that will enable you to extend your stay on that page. If a third warning appears and you don't proceed to another page, you will be logged out, and the work you've completed on the page where you've lingered will be lost.
It is important to remember that the Social Security Administration will only begin to process your online application when you complete it in its entirety. So, the longer you take to finish your application, the longer it will be before it is reviewed and you start receiving your benefits.
Required Documents
Regardless of how you apply for your retirement benefits, the Social Security Administration may need to see certain documents such as your original birth and marriage certificates to verify your eligibility to receive benefits. There is no reason to delay applying for benefits if you don't have all of the materials you need. Social Security representatives will help you get them and avoid delays in processing your application.
When Benefits Will Begin
If your application is approved before you reach at least the minimum retirement age for people born in the same year as you, you will typically begin receiving your Social Security retirement benefits one month after you are entitled to receive them. For instance, if you are eligible to receive benefits beginning in February, you will receive your first payment in March.
References
Writer Bio
Deborah Barlowe began writing professionally in 2010. With experience in earning securities and insurance licenses and having owned a successful business, her articles have focused predominantly on finance and entrepreneurship. Barlowe holds a bachelor's degree in hotel administration from Cornell University.