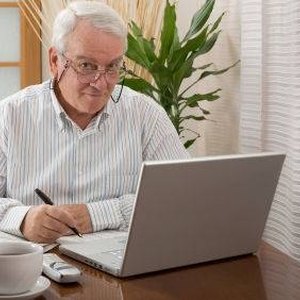 •••
http://www.life123.com/bm.pix/social-security-retirement-benefits.s600x600.jpg
You can apply for Social Security retirement benefits beginning at age 62. Your benefits will be lower if you are not at the full retirement age of 65, but you can still apply. Make sure you are emotionally and financially ready for retirement, but if you intend to work part time after you reach 62, it is still a good idea to apply early.
Make sure you qualify for benefits. According to the Social Security Administration, if you were born in 1929 or later, you must have worked at least 10 years to be eligible for retirement benefits.
The main pieces of identification you will need to apply for Social Security benefits are your Social Security card and birth certificate. Other information may be needed, depending on your situation. If you wish to have your retirement payments direct-deposited you also will need your bank account information.
Apply online by using the application form at https://secure.ssa.gov/apps6z/iRRet/rib. You can begin the application and complete it later or complete it in one sitting. You should also print a copy of your finished application for your records.
Apply on the phone by calling 1-800-772-1213. If you are deaf or hard of hearing, call 1-800-325-0778. You can apply from 7 a.m. to 7 p.m. Monday through Friday.
Call your local Social Security office to make an appointment to apply for benefits in person. It's best to apply several months before you wish to begin receiving your retirement benefits. Once you file the paperwork, you can begin receiving benefits the month after your become eligible.
References
Writer Bio
Based in Atlanta, Melody Dawn has been writing business articles and blogs since 2004. Her work has appeared in the "Gainesville Times," "Player's Press" and "USA Today." She is also skilled in writing product descriptions and marketing materials. Dawn holds a Master of Business from Brenau University.