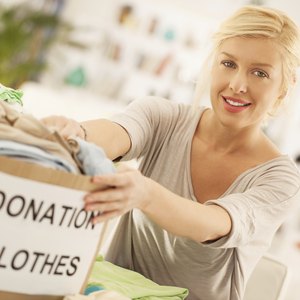 •••
LuminaStock/iStock/Getty Images
The Salvation Army, one of the nation's most well-known charitable organizations, collects donations of goods at its various locations. The organization also has trucks that can come to your house and pick up bigger items. But if you just have a few things to donate, a drop box may be the most convenient way to get your items in the hands of those who need them most.
Ask in Person, Look Online
Ask Salvation Army clerks at the stores where drop boxes are located; however, they may not know the location of every single one. Instead, visit the Salvation Army's website. You'll see a field that offers drop-off locations, which includes drop boxes, in your community. Enter your zip code, city or state, click on "Go," and the list of drop boxes closest to you, if any, comes up.
Drop Boxes Not Always Available
You may find Salvation Army drop boxes more prevalent in urban areas than in smaller communities. In some places, the only way to drop off goods is to take them directly to a Salvation Army donation center, also listed on the charitable organization's website.
References
Writer Bio
Maya Black has been covering business, food, travel, cultural topics and decorating since 1992. She has bachelor's degree in art and a master's degree in cultural studies from University of Texas, a culinary arts certificate and a real estate license. Her articles appear in magazines such as Virginia Living and Albemarle.