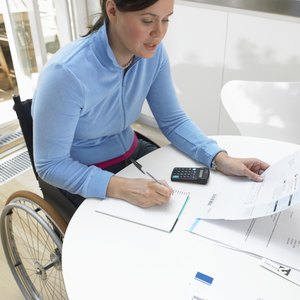 •••
John Rowley/Photodisc/Getty Images
Although a lender cannot discriminate against you because of your disability, it can turn you down due to insufficient income or poor credit score. If you are receiving Social Security Disability Insurance benefits or Supplemental Security Income, qualifying for a loan is challenging due to the fixed income. Fortunately, there are programs available to help you qualify for a variety of loans and achieve self-sufficiency.
Access Loans
Disabled individuals under the Americans with Disabilities Act are eligible for access loans offered through Bank of America. The access loans are designed to cover the costs associated with making a vehicle handicapped-accessible. Bank of American offers competitive financing rates to make the loans affordable. Other banks and financial institutions offer similar access loans to pay for vehicle conversions.
Small Business Loans
The Small Business Administration provides information for disabled individuals interested in becoming entrepreneurs. Although the SBA does not offer loans directly to individuals, it can help you obtain general financing for your small business. You can also find information about state, local and private loan programs. For example, the Illinois Minority, Women, and Disabled Participation Loan Program offers loans of up to $50,000 to fund a project. The Abilities Fund features a number of programs and services available to any individual with a disability.
Mobility Vehicle Loans
Loans designed to pay for the purchase of a mobility vehicle are available through local banks and finance agencies. For example, the Digital Federal Credit Union provides Mobility Vehicle Access Loans exclusively to members of the American Association for People with Disabilities. The loans are available for up to 120 months of financing and allow you to borrow up to 120 percent of the sale price, which can cover the sales tax and other associated fees.
Home Loans
The U.S. Department of Housing and Urban Development administers the Housing Choice Homeownership Voucher Program to help low-income individuals and families. If approved for the program, you can use the voucher to purchase a home. For disabled households, your annual income must be at least the Federal SSI benefit amount for an individual. At the time of publication, the annual SSI benefit is $8,529.32, and is slated to go up soon to $8,657.26.
References
Resources
Writer Bio
Jeannine Mancini, a Florida native, has been writing business and personal finance articles since 2003. Her articles have been published in the Florida Today and Orlando Sentinel. She earned a Bachelor of Science in Interdisciplinary Studies from the University of Central Florida.