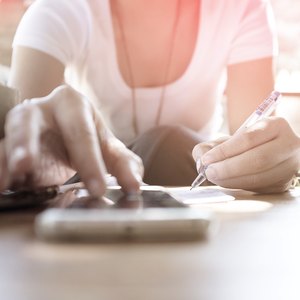 •••
skaman306/Moment/GettyImages
If you want the convenience of buying online but don't want to risk exposing your bank account or credit card information, a prepaid debit card is an option. These cards only hold funds that you load onto them, so the risk of having your money accessed is limited to the amount on the prepaid card. Green Dot MoneyPaks can be purchased and loaded onto a prepaid card easily using just your mobile phone.
Check Your Card's Eligibility
MoneyPaks only work with certain cards, so you'll want to check with your card provider for a list of compatible reload options. You also can visit the MoneyPak website and search for your card carrier and see if it's on the accepted list. If you purchase a MoneyPak for a card in which MoneyPak is not compatible, you won't be able to load the money on your card.
Locate a MoneyPak Reseller
You can find an establishment that sells Green Dot MoneyPaks in several ways. You can go to the Green Dot website and search for locations in your area code by ZIP code, city or state. Also, cards can be bought at CVS, Rite Aid, 7-Eleven, Walgreens and thousands of other retail locations throughout the United States. Look for cards that say MoneyPak in the prepaid card section that work with prepaid VISA and Mastercard debit cards.
Purchase the MoneyPak
MoneyPaks have a purchase fee of up to $5.95. It is important to note that a MoneyPak cannot be used with temporary debit cards. The card must be a permanent card, meaning it is personalized with your name. If you recently purchased a prepaid debit card, you must wait for the permanent card to come in the mail and register the card before trying to load the MoneyPak. You can purchase up to three MoneyPaks and load between $20 and $500 from each MoneyPak, up to $1,000 every 30 days. MoneyPaks can be purchased only with cash.
Load the MoneyPak By Phone
Use can use your mobile phone to reload your permanent prepaid debit card by opening the web browser on your smartphone and going to the MoneyPak website. Once you're on the site, you'll need to register if you're a new user or sign in if you're a returning user, then verify your mobile device with the site. Once you've registered or signed in and verified your phone, you can load the MoneyPak onto your prepaid card by entering your debit card number, If you want to verify that the funds have been loaded, wait a few minutes and then check your available balance on your prepaid card.
References
Tips
Green Dot charges a $5.95 monthly fee (in April 2011) for the prepaid card. The fee is waived in any month where at least $1,000 is loaded to the card or at least 30 purchases are made with it.
The prepaid card can be used for ATM withdrawals. There is a $2.50 fee for transactions at non-network ATMs. There is no fee for transactions completed at Green Dot network ATMs. Find network ATMs at the Green Dot website.
Writer Bio
K.A. Francis has been a freelance and small business owner for 20 years. She has been writing about personal finance and budgeting since 2008. She taught Accounting, Management, Marketing and Business Law at WV Business College and Belmont College and holds a BA and an MAED in Education and Training.