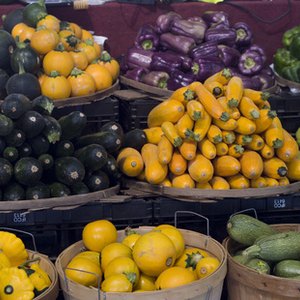 Food stamps, or the Supplemental Nutrition Assistance Program, as it is now known, is funded by the U.S. Department of Agriculture, which sets the rules for eligibility, and is administered in North Carolina by the state Division of Social Services. Any changes to your household, including moving in with your boyfriend, may well affect your eligibility for the benefit.
Household
Food stamps are generally awarded to a household in its entirety, taking into account the resources and needs of all of the people in the dwelling. A household is defined by the USDA as "everyone who lives together and purchases and prepares meals together." This means that if your boyfriend comes to live with you, he would be counted as a member of your household.
Income
As a member of your household, your boyfriend's income would be taken into account when calculating your eligibility for food stamps and the level of benefit you would receive. To be eligible for food stamps, your gross household income must be $1,579 per month or less for a family of two people.
Assets
Eligibility is also dependent on assets — material goods or savings that you have. Your household must have assets of less than $2,000, so if your boyfriend has significant savings or expensive possessions, this may affect your eligibility for benefits.
Benefits
If you are still eligible for food stamps when your boyfriend moves in, you will receive a larger allotment of food stamps as a household of two people than as one. The maximum allowable food stamp benefit for a single person is $200. The maximum for two people is $367.
Eligibility
If you want to check your eligibility under your new circumstances, you can go online to the website of the North Carolina DSS and use their online tool, called ePASS. This will give you a preliminary idea of whether your new household will still qualify for food stamps. You should inform the local county office of the Department of Social Services of your change in circumstances, and officials there will give you a final determination.