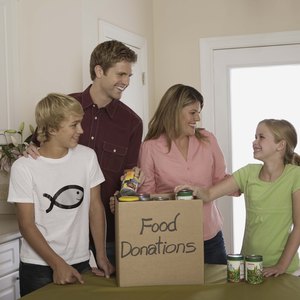 •••
Jupiterimages/Stockbyte/Getty Images
Poverty guidelines are determined and issued each year by the Department of Health and Human Services. Earning $15,000 per year could put you beneath the poverty level, depending on the size of your household. Living in poverty is difficult, particularly if you live in a large city or high income area, such as New York City or San Francisco, where it can be difficult to afford rent. Rural areas or smaller towns and cities often have a much lower cost of living, making it possible for a thrifty individual to live on $15,000 per year with the help of public aid. If you live in a low-cost area and find a way to reduce the amount you spend on housing, transportation and food -- the three things that cost American consumers the most -- you will have more money for other expenditures.
Contact your local Housing Agency or Housing and Urban Development field office. Tell them you are interested in applying for public housing. Public housing is designed for low-income families and individuals who need safe, decent and affordable housing. Supply information about your annual gross income, your U.S. citizenship or eligible immigration status, and your status as an individual, family, disabled person or elderly person. If you qualify, you will be asked to pay one of the following (whichever is highest): 30 percent of your monthly income after it is adjusted for dependents and medication, 10 percent of unadjusted monthly income, welfare rent or a minimum rent of $25 to $50.
Utilize public transportation, such as bus service and subways. Public transportation costs significantly less than buying and maintaining your own vehicle, says the American Public Transportation Association. Commuting with a car costs an average of $2,675 per year, while the annual cost of traveling by public transportation averages only $840. If public transportation is not an option for you, seek out organizations such as Rural Family Economic Success and Working Cars for Working Families, which help low-income families and individuals purchase a vehicle.
Contact your local human services or public assistance agency to apply for the Supplemental Nutrition Assistance Program, or SNAP, formerly known as the food stamp program. SNAP provides federal assistance to help low-income individuals and families purchase prepackaged edible foods. You'll be asked to supply information about your household size, gross monthly income and net monthly income. If you qualify for assistance, you will receive a monthly allotment of $189 to $1,137. Your gross monthly income must be at or below 130 percent of the poverty line, which varies depending on household size and the state in which you live.
References
Resources
Writer Bio
Karen Schweitzer is a writer and author with 10-plus years of experience. She has written 11 non-fiction books and currently works as a senior editor for Education-Portal.com. In her spare time, she blogs and assists clients with article writing, editing, proofreading and other projects.