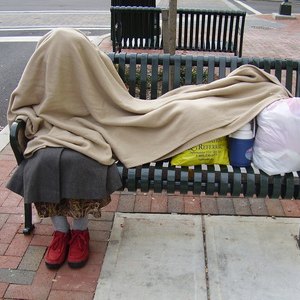 •••
homeless woman image by Christopher Martin from Fotolia.com
There are several homeless shelters in and around Stockton, California. Certain shelters offer services for specific groups, such as women, families or persons suffering from a mental illness. The following is a list of shelters available in the Stockton area. Where available, information about the services provided in the shelter and contact information has been included.
Note: This information was current as of December 2010.
Dignity Alcove
Dignity Alcove provides various services for homeless veterans, including 24-month transitional and recovery housing, meals and showers. Intake services are available Monday through Friday, from 11:00 am. to 3:00 pm. Emergency services are not provided. Dignity Alcove also assists Veterans in securing income and address various issues, such as mental illness, physical illness and substance abuse.
P.O. Box 6361 Stockton, CA 95207 Phone: 209-234-8000 Fax: 209-477-730 dignitysalcoveinc.org
Gospel Center Rescue Mission
The Gospel Center Rescue Mission operates a number of shelters for homeless men, women and families. In order to access services, a state ID must be provided. Married couples must also provide proof of marriage in order to access services. The Men's Emergency Lodge at 445 S. San Joaquin Street provides food, clothing and other services for homeless men. The New Hope Family Shelter located at 224 East Sonora Street provides shelter for homeless women with or without children. Food and employment services are also provided. The Gospel Center Rescue Mission also provides the New Life Program, a residential addiction treatment for adult men and women.
445 S. San Joaquin Street Stockton, CA 95203 Phone: 209-466-2138 Fax: 209-320-2322 gcrms.org
Haven of Peace
Haven of Peace provides shelter for homeless women between the ages of 18 and 65, as well as their children. This shelter will not accept boys over the age of 8. Haven of Peace operates 24 hours a day, 7 days a week and emergency shelter is provided for up to two weeks.
7070 Harlan Road French Camp, CA 95231 Phone: 209-982-0396 Fax: 209-234-1010
Jesus Saves Ministries
Provides shelter for the homeless, as well as counseling and children's services in downtown Stockton.
428 S. Sutter Street Stockton, CA 95203 Phone: 209-463-4979
McHenry House
In addition to a 48 to 72 hour emergency shelter service, McHenry House offers a Family Crisis Intervention Program. Families using the shelter must find full-time employment within two weeks of their arrival. Any person over 18 is screened for drug use and children must be enrolled in local schools within 3 days. Food and shelter are provided for between 8 and 12 weeks, during which time families must save 90% of their money and attend classes on site (for example, support groups, parenting classes, women's groups and a money management class). Children must also attend a homework club from Mondays to Thursdays while adults attend evening classes and group sessions.
757 A. Street Tracy, CA 95376 Phone: 209-835-2328 Fax: 209-835-3058 mchenryhousetracy.org
San Joaquin Health Care Services Shelters for the Homless
San Joaquin Health Care Services Shelters for the Homeless provide outreach for homeless persons with mental health illnesses. These facilities provide shelters in the community for the homeless and other services, such as skills training, money management, employment services, food and clothing.
1011 Rosemarie Lane, Apt. 110 Stockton, CA 95207 Phone: 209-468-8780 Fax: 209-468-8025
Salvation Army - Lodi (Center of Hope)
The Lodi Salvation Army provides emergency shelter services, as well as hot meals and clothing. This shelter is primarily for homeless men. Depending on availability, women can be accommodated at a separate location. Any person using the shelter must provide picture ID or a Medi-Cal card.
525 W. Lockeford Street Lodi, CA 95340 Phone: 209-369-5896 Fax: 209-369-2724 salvationarmyusa.org
Stockton Shelter for the Homeless
Stockton Shelter for the Homeless provides three year-round shelters. A fourth shelter is offered at the Stockton Housing Authority's migrant camps during winter months. Emergency shelter is available for up to 30 days (some exceptions may be made).
A family shelter, which also provides shelter for single women, Stockton offers 25 rooms at 301 S. San Joaquin Street. During times when the facility is full, staff will help families and single women secure emergency shelter in the multi-purpose room for overnight stays or at another shelter.
A single men's shelter provides bunk-beds for about 150 people. This number may be greater as the shelter uses thick mats and blankets on the floor during times of high demand. The singles shelter is located at 611 West Church Street.
Stockton Shelter for the Homeless also operates Holman House, a shelter for persons living with HIV/AIDS.
411 S. Harrison Street Stockton, CA 95203 Phone: 209-465-3612 Fax: 209-939-9733 stocktonshelter.com
Writer Bio
John Costa covers travel, public policy and consumer issues for various online publications. He has also worked as a government adviser since 2005, developing policies and programs. Costa holds a B.A. in history and political science from the University of Toronto, as well as an M.A. in comparative politics from the University of York in England.