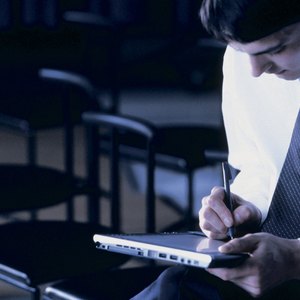 •••
Comstock/Stockbyte/Getty Images
A trading platform is online software you use to buy and sell equities. All major brokerages offer one or more trading platforms. Schwab, for example, offers two versions of its trading software: one for general investors and a second, titled "Street Smart Edge," geared more to professional investors and traders. Each brokerage's trading platforms offer in addition to trading capabilities such amenities as extensive equity research, equity screening and individual portfolio analysis.
Subjective "Best" Trading Platform Lists
Lists of "best" trading platforms are widely available on the internet but should be approached with some caution. Sometimes the site providing the list has a financial connection to one or more of the recommended platforms. At other times, the list may be honest enough but still reflects the preferences of the writer, who may attach great value to cost effectiveness, for example, while not giving much weight to research capability.
'Barron's' Top Three
Like other financial media, "Barron's" provides an annual list of best trading platforms. In 2014, for example, its top picks were Interactive Brokers, ranked No. 1 by "Barron's" three years in a row; TradeMonster, which "Barron's" editors cited in particular for its useful adaptation of the platform to mobile devices; and Place Trade. Place Trade's trading platform has an interesting relation to Interactive Brokers' platform; electronically speaking, they are slightly dissimilar implementations of the same computer program source.
Best for Whom?
In addition to naming its top three picks, "Barron's" also evaluates 20 platforms according to different criteria. The results make clear why no single platform is best for all traders and investors. In terms of satisfactory overall trading experience, "Barron's" lists 20 brokerages alphabetically, then from that list recommends 14 platforms, again listed alphabetically, for their wide range of equity offerings but only four for their research capabilities. This last list is alphabetical: Capital One Sharebuilder, Charles Schwab, eOption and E*Trade. None of its top three overall picks makes the four-platform research capability list.
The Best Platform for You
If you are concerned primarily with transaction costs, you'll look for brokerages with the lowest fees, among them TradeKing and Scottrade. Other brokerages offer even lower fees but require higher deposit minimums or monthly transaction minimums. On the other hand, if your concerns are breadth and quality of research, Schwab's offerings in that area are extensive. There are many other criteria you may find valuable, such as availability of a broker by phone, personal portfolio evaluation or profit and loss portfolio tracking. The best way to find the best broker for you is to make a list of platform characteristics you find most important. Then check a few likely sites to see how they stack up.
References
Writer Bio
I am a retired Registered Investment Advisor with 12 years experience as head of an investment management firm. I also have a Ph.D. in English and have written more than 4,000 articles for regional and national publications.