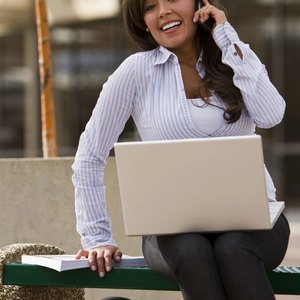 •••
epeterhansen/iStock/Getty Images
To assist with community and economic development challenges faced by Native American nations, a nonprofit organization was formed in 2002 called the Native American Community Development Corp. One arm of this organization is affiliated with the Native American Bank Corp., which operates the Native American Bank. Other banks offering services targeted toward Native American individuals and their collective projects include tribally owned Pinnacle Bank and business-loan-focused Key Bank.
Services Provided
Online services of the Native American Bank include standard checking and savings accounts, children's and elder accounts, and personal and business loans. Pinnacle Bank offers traditional banking at three branch locations in Iowa and online. In addition, it offers IRAs, trusts for minors, ATM management for tribal businesses, and personal and auto loan services. Key Bank focuses on lending and leasing, construction loans and funding of projects for Native American nations and their affiliated organizations.
Overall Mission
As a collective entity, these organizations and banks seek to improve the lending power, buying power and community understanding of the banking system for people living on tribal lands. These banks encourage responsible saving, help improve credit scores of native people through secured loans and help increase overall economic conditions through business and private funding efforts. Through online banking, these bank networks hope to empower the under-banked segment of the Native American population with targeted services.
Funding
Funding for the nonprofit NACDC is provided largely by grants and sponsored programs from outside foundations, organizations and individual supporters. The organization does not receive U.S. federal government support. Pinnacle Bank is tribally owned, and Key Bank is a for-profit enterprise with a focus on relationships within the Native American community.
Community Outreach
Native American Bank offers community outreach by promoting programs that foster economic sovereignty of the tribes. These efforts include encouraging responsible saving techniques, helping Native American first-time homebuyers and entrepreneurs and financing infrastructure improvements, like a water treatment plant on tribal lands. Pinnacle bank is owned by the Meskwaki tribe and is one of only 18 tribally owned banks in the U.S. As a community outreach effort, it offers secured loans to help tribal members who want to repair their credit. Key Bank has a group of senior bankers devoted to understanding native culture before providing financial advice or recommendations. Annually the bank devotes the month of May to neighbor service days, helping with local cleanup and beautification efforts.
References
Resources
Writer Bio
Tela Lewis has written professionally since 2006. She primarily writes about travel destinations, women's issues, healthy relationships, real estate, property management and construction safety. Lewis produces articles for various local publications, including a monthly wine and travel newsletter. She has an Associate of Arts degree in English literature from Solano College.