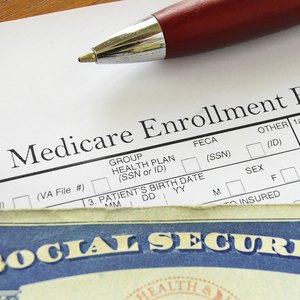 •••
zimmytws/iStock/Getty Images
The government sponsors many health insurance programs to help people who would otherwise go without medical insurance and perhaps, without necessary medical care. These programs are not always easy to get into. In fact, they can sometimes be very difficult to be approved for because of the governmental red tape that is required. However, people who are ill and struggling financially do have options that they may not even be aware of.
Medicare
According to the Centers for Medicare and Medicaid, Medicare is a program that assists disabled, elderly and those with End-Stage Renal Disease. Medicare is available to persons who are 65 years of age and above or have been declared disabled by their state. Medicare offers hospital coverage, medical insurance and even prescription drug coverage. People looking for Medicare benefits should contact the Social Security office at 1-800-772-1213 to apply for this program. If you are applying for disability benefits, it is important to apply for Medicare at the same time.
Medicaid
Medicaid is a program that benefits those who have low incomes and no health insurance coverage. According to the Centers for Medicare and Medicaid, each state has different rules about Medicaid qualifications. In addition, some states (like the northern states) are more lenient because they have a higher cost of living. Medicaid coverage offers help for cost of medical care as well as prescription coverage and even transportation to medical appointments. To apply for this program, you should call your state department of public welfare or social services to begin the process.
CHIP
Children's Health Insurance Program, or CHIP, is a government-run health insurance plan for children. According to the Centers for Medicare and Medicaid, President Barack Obama signed the Children's Health Insurance Program Reauthorization Act in February of 2009 and it went into effect in April of 2009. The insurance provides health insurance coverage to children who would otherwise go uninsured in the United States. This program helps to provide funds to states that help them supplement and reach out to millions of children in need. It is usually begun when a parent applies for Medicaid coverage for his child.
References
Writer Bio
Kristie Jernigan is a health writer with over 17 years of experience as a medical social worker. She has worked mainly with the elderly population and with children. She holds a Bachelor of Science in psychology and early childhood from East Tennessee State University and a Master of Science in health care administration and gerontology from the University of Phoenix.