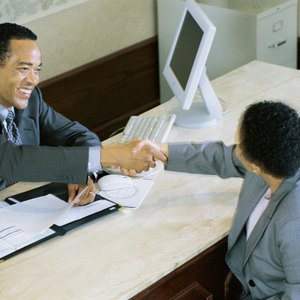 •••
Comstock/Comstock/Getty Images
Canada, and more specifically the province of Ontario, is a leader in the financial world. There are numerous brokerage firms located in the province that offer clients a wide array of financial planning services and market ideas that can help consumers increase the value of their assets. Whether you are looking for a firm to manage your business or personal financial needs, choose from a number of options located in Ontario.
Desjardins Securities
Formed in 1990, Desjardins Securities is a full service brokerage firm operating out of Quebec in the Ontario province. As one of the largest investment brokerage firms in Canada, Desjardins manages over 18 billion dollars in assets, as of January 2010. The company is the largest private employer in Quebec and operates 47 branch locations all over Quebec and Ontario. It offers financial management services to both individuals and businesses including investment banking, stock research, and estate planning.
Desjardins Securities 1170, Peel Suite 300 Montréal Qc H3B 0A9 (888) 987-1749 corpo.vmd.ca
Jones Gable
Operating since 1965, Jones Gable is one of a small number of independent investment firms doing business in Ontario. With offices in Toronto and Montreal, Jones Gable services around 5,000 clients and manages close to one billion dollars worth of assets. Unlike many brokerage firms, Jones Gable's sole focus is investment planning. It offers clients a plan and pathway to achieve financial goals, assisted with strong support from the firm. Though its focus is on the individual, it does take a limited number of business clients who are interested in capital markets.
Jones Gable 600 - 110 Yonge Street Toronto, M5C 1T6 (416) 365-8000 jonesgable.com/
Loewen Ondaatje McCutcheon Limited
Geared specifically toward businesses, Loewen Ondaatje McCutcheon Limited is a brokerage firm located in Ontario's largest city, Toronto. Focusing on finding the best financing options through market and investment research, the company is an excellent fit for emerging companies looking to reach their financial goals. Loewen Ondaatje McCutcheon Limited focuses primarily on the biotech, technology, health care, and alternative energy business markets to provide services that are well researched, planned, and specific to these areas.
Loewen Ondaatje McCutcheon Limited 55 Avenue Road, East Tower, Ste. 2250 Toronto, Canada M5R 3L2 (416) 964-4455 lomltd.com/
References
Writer Bio
Lacey Roop's articles have been printed in various print magazines such as "UpCountry" where she was a feature writer for four years. She has written pieces for "Bluegrass Now" where her work graced the cover on two occasions. Lacey has a BA in English and has been writing professionally since 2003.