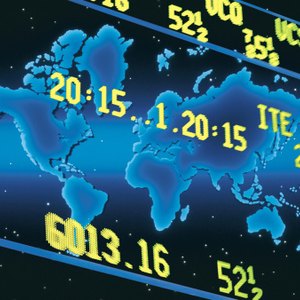 •••
Comstock/Comstock/Getty Images
Foreign securities aren't always easily bought and sold in the United States. A number of foreign stocks are listed on domestic exchanges as ADRs. ADRs, or American depository receipts, are shares of stock of foreign companies sold on American stock exchanges. ADRs are as straightforwardly transacted as domestic securities on the NYSE, NASDAQ or OTC markets. Sometimes customers cannot purchase foreign stocks and bonds on an American exchange; the security must be purchased on an exchange in another country. A broker executes the trade for a customer and charges an overseas transaction fee. The securities may be sold on an international exchange and the transaction handled by a brokerage firm based in the United States, or by a foreign firm with branches in the U.S.
Redeem Israeli bonds through an authorized bond dealer. Israeli bonds are frequently held by individuals and kept at home or in safe deposit boxes. Bond certificates are registered with an Israeli agency and can be redeemed by an agency such as the Development Corporation for Israel. A completed W-9 form and the bond certificate are the only paperwork required, as long as the name on the W-9 is the same as the bond registration name. Additional paperwork is required if the owner is deceased or ownership has been transferred. Completed documents can be sent to the following overnight address: Computershare, ATTN: Israel Bonds, 250 Royal Street, Canton MA 02021. Documents sent by conventional mail can be forwarded to: Computershare, ATTN: Israel Bonds, P.O. Box 43038, Providence, RI 02940-43038. Call Computershare at 866-764-3425. It's highly recommended that documents be mailed registered mail so you have a receipt. Keep copies of all original documents that are mailed.
Check out the section on the Computershare website dedicated to information on buying and selling Israeli bonds. Email questions to customer.service@israelbonds.com, or call 888-519-4111. Additional paperwork required for deceased bondholders, for example, is provided on the website. The value of specific bonds is available from IsraelBonds.org, or by calling 212-918-1967 — 888-792-9328 toll-free. This group can direct bondholders with particular problems to an organization or agency that can assist them.
Check out the quote box on a financial website such as the Wall Street Journal's or on MoneyCentral. Find out if the stock is listed and traded in the U.S. Israeli stocks transacted on American markets can be sold by a broker or online brokerage firm. Results list the company name, ticker symbol and current trading price. Also refer to the "Israel Newsletter," a publication that lists Israeli stocks traded in the United States. Contact your broker for information on the firm's procedures for selling the stock if the company is traded in the U.S. The stock certificate needs to be placed in a brokerage account before a sale can be completed.
Contact the company's transfer agent, headquarters or investor relations department if the stock can't be sold on an American exchange. The stock certificate should have the name of the transfer agent on the front of the certificate. The transfer agent is a financial institution that registers shareholders and handles stock transfers. Contact the transfer agent for stock sale procedures. If the transfer agent is unknown, email overseas companies for information on selling the stock. Email addresses can be found on the "Contact Us" page of company websites.
References
Resources
Writer Bio
Meryl Baer worked at a financial firm for 15 years, researching investments and writing newsletters and marketing materials. She also worked at two business schools as an English/business writing instructor, department head and placement director. Baer holds a master's degree in American studies from Pennsylvania State University and a master's degree in business administration from Robert Morris University.