How to Get Life Insurance if You Have Medical Problems
by Contributor ; Updated July 27, 2017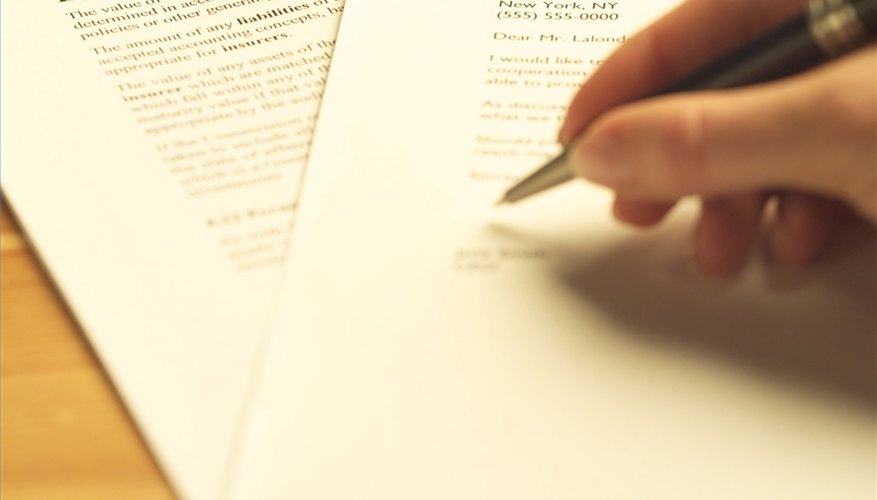 Items you will need
Term Life Insurance
Whole Life Insurance
Life Insurance
How to Get Life Insurance if You Have Medical Problems. Even if you're not in the best of health, life insurance coverage at a reasonable cost is possible.
Getting Ready to Apply
Step 1
Write down the names, addresses, and phone numbers of all the medical professionals, agencies, clinics, and hospitals you have used in the last 10 years.
Step 2
Make a list of the medications you currently take. Be specific about the exact amount and frequency of dosage (for example: Donalax, 30mg, three times daily).
Step 3
Recall the approximate dates of any major adult life events affecting your health and write them down, earliest first.
Step 4
Disregard accidents from which you fully recovered; they are not considered in underwriting.
Step 5
Summarize all positive aspects about your health condition, such as "never smoked," "quit smoking in 1974," "take walks three times a week," etc.
Step 6
Organize all this information in a folder and make at least one photocopy.
Applying for Coverage
Step 1
Use your own insurance agent, or seek an insurance professional with experience in placing "impaired-risk" cases.
Step 2
Make at least two formal applications for insurance to companies that are known to be aggressive underwriters.
Step 3
Apply for the amount of death benefit that your beneficiary(ies) actually need, according to your calculations and the advice you have gotten from trusted financial professionals.
Step 4
Agree to take whatever medical tests and exams are required (they will be paid for by the insurance company) as soon as possible after you finish filling out the application forms.
Considering the Offers
Step 1
Direct your agent to provide written documentation of any and all coverage offers that result from your applications.
Step 2
Request a letter of explanation from any company that rates or declines you.
Step 3
Choose the offer that gives you the most insurance coverage and policy guarantees for the least cost.
Step 4
Regardless of the offers, have the insurance company send the results of all exams, tests, and lab work to your doctor for your files.
Tips
Being prepared with accurate, written medical information and history will speed up the process of getting quotes from insurance companies. The names of the prescription drugs you take are important. Articulating the positive aspects of your current health condition, no matter how minor they may seem to you, can only help your chances of getting coverage. Smaller, lower-rated insurance companies may be your best bet to get coverage. Get the best results possible on your medical exam by avoiding strenuous exercise, caffeine, heavy meals, and alcohol at least 8 hours before your exam. Schedule your exam early in the day. The results of one medical exam can be shared by several companies. A permanent type of policy rather than term may be easier to get. A telephone interview from an insurance company during underwriting is routine and doesn't mean there is anything wrong with your application. All offers, even declines, may be negotiable, especially if large sums of money are involved. If appropriate to your situation, two people can be insured under the same policy if one of those persons is uninsurable. Single-premium life policies require less demanding medical qualification. Although its insurance features are very limited, an annuity might provide some protection of assets if you can't medically qualify for a life policy.
Warnings
Don't be discouraged if you have been declined or rated for coverage in the past. If you feel your health has gotten no worse, or improved, there's hope. False or misleading information on an application could void any policy you are issued, or it could reduce or nullify the benefits paid to your beneficiary. If you apply for widely differing policy types and amounts from different companies, you won't be able to make valid comparisons of offers. Don't be pressured into including a check with your applications - you don't have to in order to get offers. Avoid "informal" applications; they are often not taken seriously by underwriters. Don't expect to be examined by your personal doctor. Insurance companies have their own, approved network of examiners. Avoid offers from very poorly rated insurance companies unless you are desperate for the coverage and they are the only ones that will issue a policy. Underwriting impaired-risk cases takes longer than other types of applications. You may be asked to take additional medical tests or have more lab work done before a company will make an offer. You have the right to full disclosure from the insurance company for the reasons they rated or declined your application for insurance. You also have the right to receive the results of any and all medical exams performed during the course of underwriting.
Video of the Day
Brought to you by Sapling
Cite this Article
Choose Citation Style
Contributor. "How to Get Life Insurance if You Have Medical Problems." Pocket Sense, https://pocketsense.com/life-insurance-you-4057.html. 27 July 2017.
Contributor. (2017, July 27). How to Get Life Insurance if You Have Medical Problems. Pocket Sense. Retrieved from https://pocketsense.com/life-insurance-you-4057.html
Contributor. "How to Get Life Insurance if You Have Medical Problems" last modified July 27, 2017. https://pocketsense.com/life-insurance-you-4057.html
Note: Depending on which text editor you're pasting into, you might have to add the italics to the site name.