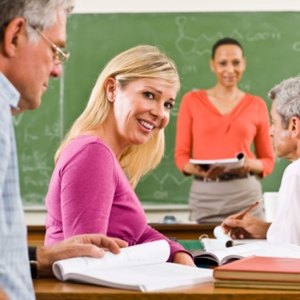 •••
Jupiterimages/BananaStock/Getty Images
Single mothers searching for student aid may encounter fraudulent sources operating grant or scholarship scams. Only a limited number of legitimate student aid sources offer educational grants specifically for single mothers. However, single mothers can also obtain financial support from nonprofit organizations offering support specifically for women or parents. Single mothers may also qualify for need-based student aid offered by federal and state programs, which often consider all education-related expenses a student may have, including childcare costs.
Programs for Mothers
Certain nonprofit organizations offer educational grants specifically for mothers. The Women's Independence Scholarship Program, for instance, awards scholarships to women who have survived partner abuse. The program primarily supports single mothers and recipients can use awards to attend private and public four-year colleges, community colleges or technical schools. The Patsy Takemoto Mink Foundation awards $2,000 scholarships, as of June 2011, to low-income mothers to help pay for training or degree programs. Candidates must be 17 years of age or older, have at least one minor child and meet income guidelines to qualify for the Mink program.
Women's Programs
Women's organizations often offer student aid for nontraditional female students. The Jeannette Rankin Women's Scholarship Fund, for example, offers scholarships to low-income females students 35 years of age and older who attend four-year postsecondary institutions and vocational schools. Emerge Scholarships Inc. awards scholarships to nontraditional females students who are returning to school after an interruption in their educational pursuits. The Emerge program extends a preference to women attending schools in Georgia and only awards scholarships to candidates with a financial need for support. As of June 2011, women can receive Emerge awards up to $5,000, which they can only use to help pay tuition and school fees.
Single-Parent Programs
Certain student aid programs offer funding specifically for single mothers or fathers. The Arkansas Single Parent Scholarship Fund, for instance, helps low-income single parents pay for educational activities that can lead to higher earnings. Applicants must hold residency in Arkansas and have custody of at least one minor child to qualify. Certain local chapters of the Assistance League offer single-parent scholarships for residents in their service areas. The AL chapter in Hemacinto, Calif., offers awards up to $500, as of June 2011, to single parents returning to school at community colleges. The AL chapter in Greeley, Colo., awards single-parent scholarships to help students pay for tuition and textbooks.
Other Options
Need-based government student aid programs often provide the highest level of funding for all types of students who need help paying for school. The Federal Pell Grant program, for instance, offers need-based funding for students attending four-year colleges and vocational schools throughout the United States. Pell Grant guidelines consider all educational costs of applicants, including special expenses incurred by single mothers, such as childcare costs. The majority of states also offer need-based grants for students. Tennessee offers the Student Assistance Award to needy undergraduate students who hold residency in Tennessee. The Tennessee program requires recipients to attend school no less than half-time and allows students to attend public and private schools in the state.
References
Writer Bio
Michael Evans graduated from The University of Memphis, where he studied photography and film production. His writings have appeared in numerous print and online publications, including International Living, USA Today, The Guardian, Fox Business, Yahoo Finance and Bankrate.