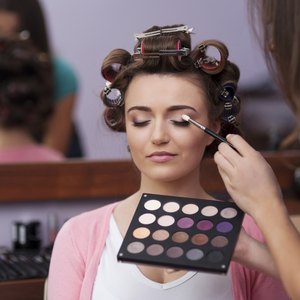 •••
gpointstudio/iStock/Getty Images
You want to make the world more beautiful, one face at a time. Even if you already have some skills, if you want to provide professional makeup services at a salon, spa or other similar setting, you'll need to go to beauty school. Grants for makeup artists can help offset the costs of your education and turn your dreams into a real cosmetic career.
Beauty Changes Lives
The Beauty Changes Lives foundation scholarship and mentorship programs provide money for qualified cosmetology students to pay for at least part of their schooling. The foundation is a nonprofit organization established by the American Association of Cosmetology Schools. In an effort to raise awareness of the cosmetology industry, Beauty Changes Lives provides financial awards such as the Vidal Sassoon Professional Beauty Education Scholarship and the Vidal Sassoon Professional Beauty Education Scholarship Program -- Advanced. The advanced scholarship option is open to cosmetology graduates who are looking to advance their professional careers through further study.
Beauty Schools Directory
The Beauty Schools Marketing Group offers financial assistance for cosmetology and esthetician students through the Beauty Schools Directory. Makeup artist students may apply once per school session for the group's $2,500 scholarship. Future makeup artists and cosmetologists can apply for the scholarship money online at the Beauty Schools Directory website. You must provide answers to brief essay questions to explain why the group should choose you for its scholarship award and detail your career goals.
Cinema Makeup
If your career goals focus on working in the film industry, the Cinema Makeup School -- or CMS -- in California offers several scholarships in conjunction with other groups and organizations. For example, the Ve Neill Legends of makeup scholarship provides $10,000 for study at CMS. Other scholarships include the Next Level Cosplay scholarship and the Comic-Con Masquerade prize. The Comic-Con scholarship is a $1,000 prize awarded to one makeup artist who excels at the convention's annual show.
Beauty School Scholarships
If cinematic work isn't on your mind, you'll also find several school-specific scholarships available through individual beauty institutions. For example, Empire Beauty Schools offers several scholarship opportunities as well as an ACE grant through the Beauty and Barber Supply Institute to those who qualify. Some schools may also offer Federal Pell grants -- free financial assistance for post-secondary students who meet financial need qualifications.
References
Writer Bio
Based in Pittsburgh, Erica Loop has been writing education, child development and parenting articles since 2009. Her articles have appeared in "Pittsburgh Parent Magazine" and the website PBS Parents. She has a Master of Science in applied developmental psychology from the University of Pittsburgh's School of Education.