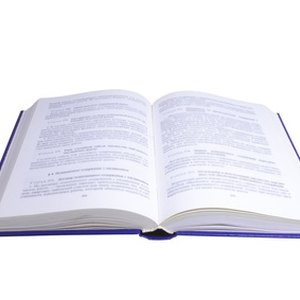 •••
The book image by Dzmitry Halavach from <a href='http://www.fotolia.com'>Fotolia.com</a>
Insurance billing is used to get insurance companies to pay claims on medical services. It consists of submitting documentation outlining services received by the patient at a medical facility to the insurance company. Insurance billing specialists are experts on the necessary software and procedures required for insurance claims. Many insurance billing specialists receive training through medical billing and coding programs offered at colleges and become certified through an exam. There are also online resources and books that can be used to teach yourself insurance billing if you'd just like to have the knowledge.
Purchase your own study materials at a bookstore or through a website like Amazon. You can teach yourself the basics of medical insurance billing on your own time.
Take an online course in medical insurance billing and coding. The American Academy of Professional Coders (AAPC) offers course material through their website for self-study. You can take an online course in medical billing and reimbursement that will provide you with books and audio lectures. This will not provide you with the most comprehensive medical insurance billing knowledge, but it will help you grasp basic concepts.
Take it a step further and take courses in anatomy and medical terminology through the same website to complete your medical billing education. Medical terminology is the core of filing insurance claims, and an understanding of anatomy makes one well rounded in the field. If you plan on taking the certification exam, you can also take an exam preparation course.
Gain certification through a university continuing education program. These programs allow individuals to take courses without having to be enrolled as part-time or full-time students at the school. The City University of New York (CUNY) College of Staten Island offers a program in medical billing and coding through their office of continuing education and professional development.
Enroll in a medical insurance billing program through a college. You can work toward a diploma, an associate degree or a bachelor's degree in medical insurance billing and coding. Herzing University offers these options at many of its campuses and online. This is the best way to learn insurance billing for those who prefer a classroom setting and discipline. This will also prepare the student to take the certification exam so that they can enter the working world.
References
Resources
Writer Bio
Essence Harris has written for Essortment, SoYoWanna.com and other websites since 2010. Her areas of specialization include career training programs, occupational outlook and career development. She studied mathematical sciences at the University of Memphis.