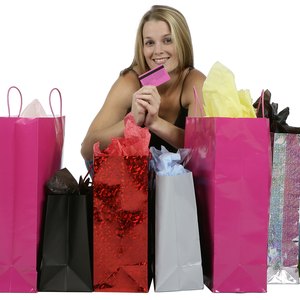 •••
Photos.com/PhotoObjects.net/Getty Images
Kohl's customers who have a credit card from the store may be able to receive a few perks that are not available to other shoppers as well as additional savings at checkout. With applications available at the register and online, applying for a Kohl's card is a quick and painless process.
About the Card
Shoppers can use their Kohl's cards on purchases in the store and at Kohls.com. The card's annual percentage rate is 21.9 percent at the time of publication. However, this rate can increase to 24.9 percent (at the time of publication) if a payment is not received by the due date or if a payment is returned. Both of these interest rates are variable, based on the prime rate.
Benefits
Cardholders receive additional discounts on everything 12 times each calendar year. Those who spend at least $600 on their card each year are eligible to become a Most Valued Customer, which earns them a personal sale day six times a year in which they select to receive extra savings. These valued customers also will receive a newsletter that offers additional savings.
Online Application
An application for a Kohl's card can be found on the retailer's website. Applicants provide basic information, including name, date of birth, address, phone number and email address. They also input their Social Security number and annual gross income, which can include money received from child support, alimony or separate maintenance income, if preferred.
In-store Application
Paper applications are available in every Kohl's store. Customers can complete the same application that is available online, but if approved for the card, they will receive the additional benefit of receiving a 15 percent discount on their same-day purchase.
Improving Credit
Most applications are processed and customers receive a response back within 60 seconds of submitting the application. If they are not approved, it may be the result of a FICO score that is not high enough. Applicants can try to improve their credit score and apply again once they see their score improving. Paying off debt can help increase a person's credit score. Payment history accounts for 35 percent of a person's score, so it is important to pay bills on time, which means that companies will not have to report late payments to the credit bureau. If an applicant has missed a payment, he or she should get current because as more time elapses, the better the score will become. Other ways to improve a credit score include mixing revolving and installment loans, keeping balances low, refraining from opening new accounts when there is limited credit history and disputing errors on a credit report.
References
Writer Bio
Samantha Kemp is a lawyer for a general practice firm. She has been writing professionally since 2009. Her articles focus on legal issues, personal finance, business and education. Kemp acquired her JD from the University of Arkansas School of Law. She also has degrees in economics and business and teaching.