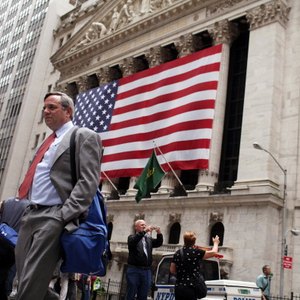 •••
Spencer Platt/Getty Images News/Getty Images
The stock market offers a way to build long-term wealth over time, but it is important to take the long view and reduce your risk as much as you can. Keeping your costs down and buying more shares when the stock market is low are two ways to maximize your profits and make a killing in the stock market. Nonetheless, investing in a fickle creature like the stock market is always at a risk.
Choose a brokerage firm that charges the lowest brokerage commissions you can find. Keeping your costs low is an essential part of investing and making money in the stock market.
Compare the costs associated with mutual funds and choose the lowest cost providers you can find. Index funds can provide a low cost alternative to actively managed funds, which allows you to keep more of your money in the stock market.
Research the available options at your employer, including any employee stock purchase plans the firm has in place. Stock purchase plans can be an effective way to make a killing in the stock market since they carry a number of built-in advantages. For instance, the typical employee stock purchase plan allows you to buy stock at a 5 to 15 percent discount, which gives you an immediate return on your money.
Invest as much as you can into your company 401k plan and use the lowest cost and highest performing mutual funds you can find. Review the prospectus for each mutual fund in the 401k and look for funds that performed well in both up and down markets. Invest at least enough in your 401k to get the full company match from the firm you work for.
Set up an automatic investment plan into a quality index mutual fund. Transfer money directly from your bank account to the mutual fund company each month. This helps you accumulate wealth in the stock market by allowing you to accumulate more shares when the stock market is down and fewer when it is up. This process is known as dollar cost averaging, and it can help build long-term wealth in the stock market.
Put more money into your stock market investments when the market experiences its inevitable declines. Buying low and selling high is at the heart of stock market investing. The stock market should be a long-term investment, not a short-term trading vehicle.
References
Writer Bio
Based in Pennsylvania, Bonnie Conrad has been working as a professional freelance writer since 2003. Her work can be seen on Credit Factor, Constant Content and a number of other websites. Conrad also works full-time as a computer technician and loves to write about a number of technician topics. She studied computer technology and business administration at Harrisburg Area Community College.