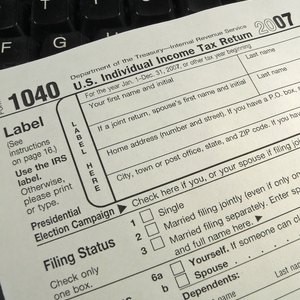 Kentucky exempts workers from select neighboring states from paying state income taxes on money earned in Kentucky. The commonwealth has reached reciprocal agreements with seven different states, acknowledging that some people work in Kentucky but remain residents of other states. These individuals are required to pay only the income taxes of their home states.
Legal Basis
The Kentucky Administrative Regulations codify the reciprocal agreements Kentucky made with neighboring states in the 1960s and 1970s. 103 KAR 17:140 lists the states holding reciprocal agreements with the Commonwealth and provides the requirements needed to exempt individuals from paying Kentucky income taxes.
Kentucky Revised Statute 131.130(1) authorizes the Commonwealth's Department of Revenue to issue administrative regulations such as 103 KAR 17:140 needed to administer Kentucky's tax laws.
States Holding Reciprocal Agreements
Indiana, Wisconsin, Michigan, Ohio, Virginia, West Virginia and Illinois all hold reciprocal tax agreements with Kentucky. The agreements cited in 103 KAR 17:140 exempt individuals residing in those states from paying Kentucky income taxes on income earned in Kentucky.
Residency Requirements
The authors of 103 KAR 17:140 do not define the term "resident." However, Section 4 does provide that anyone who "maintains a place of abode and spends more than 183 days in Kentucky during the year" is not eligible for the reciprocal agreement and must pay Kentucky income taxes. In addition, residents of Virginia must commute daily to work in Kentucky to obtain the tax exemption.
Forms
Individuals seeking exemption must complete the Kentucky Department of Revenue Form Number 42A809, Certificate of Nonresidence. The form requires the individual to certify that he is not a resident of Kentucky and that he works in Kentucky but resides in one of the seven states holding a reciprocal income tax agreement with the commonwealth. The form is not notarized and requires only a signature and date from the worker.
Ramifications
People working in Kentucky but residing elsewhere may be exempted from paying Kentucky income taxes, thus reducing tax revenues for the commonwealth. However, Kentucky residents working in a state holding a reciprocal agreement with Kentucky will pay income taxes to Kentucky earned outside the commonwealth.
According to the Tax Foundation, the involved states have the following income tax rates: Kentucky (2 to 6 percent), Illinois (3 percent of federal adjusted gross income), Indiana (3.4 percent of federal adjusted gross income), Michigan (4.35 percent of federal adjusted gross income), Ohio (0.58 to 5.9 percent), Virginia (2 to 5.75 percent), West Virginia (3 to 6.5 percent) and Wisconsin (4.6 to 7.75 percent).
References
Writer Bio
E.S. Martin is an attorney who has worked in civil litigation for more than eight years. He focuses his work in insurance, personal injury, subrogation and risk management.