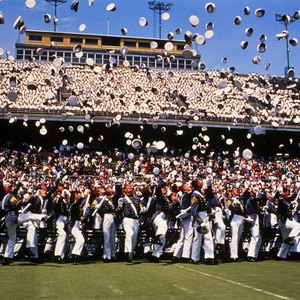 •••
Jake Rajs/The Image Bank/GettyImages
Graduate school can be expensive, so it's nice to have options to cover that expense. Joining a Reserve unit is one way to pay for graduate school, depending on the branch of the Reserve you join. Although the Navy and Marine Reserve don't offer tuition assistance for grad school, both the Army Reserve and the Air Force Reserve do – but the Army Reserve gives you many more options.
Depending on which branch of the Reserves you join, you may be eligible for assistance in paying for graduate school.
The Ready Reserve
As a new enlistee directly in the Reserve, you'll serve in the Ready Reserve, one of three Reserve categories. The others are Selected Reserve, consisting of key civilian employees and temporarily disabled service personnel, and Retired Reserve, consisting of those under 60 receiving retirement pay who did not elect a full discharge. As a reservist, you'll spend one weekend every month in training. You'll also spend two weeks every summer doing training exercises. You can enlist for three or six years, depending on your Reserve job. You could be called to active duty to provide expertise or support.
The Army Reserve
The Army Reserve believes strongly in voluntary education because it plays a key role in your promotional opportunities as a reservist. If you're a reservist and a full-time student, you can get up to $375 per month for 36 months under the Montgomery GI Bill, or MGIB. You may also be eligible for the MGIB Kicker, which pays an additional $350 per month for up to 36 months. Your eligibility for the full amount depends on the length of your Reserve service.
MGIB and REAP
In addition to the MGIB, you may be eligible for the Reserve Education Assistance Program, which provides nearly $40,000 in tuition benefits. To qualify for REAP, you must have been called up to active duty on a contingency operation and served for at least 90 consecutive days. In addition, as an active reservist enrolled in college, you can get tuition assistance for 100 percent of your course costs up to $250 per credit hour for approved courses. The maximum you can receive per fiscal year is $4,500.
Air Force Reserves
Like the Army, the Air Force provides tuition assistance to support the achievement of professional goals. The funds are issued on a reimbursable basis to those reservists who receive a 2.0 for undergraduate degrees and a 3.0 for graduate degrees. You must request tuition assistance and receive approval in advance for your courses to qualify. Reservists receive 100 percent funding for graduate study up to $250 per semester hour or $166.66 per quarter hour, but no more than $4,500 per fiscal year.
Additional Assistance
To be eligible, you must remain a member of the Reserve until after you receive your tuition assistance benefits. To do so, you may need to re-enlist and must submit your degree plan. If you have two or more years remaining before completing your graduate degree, you can also apply to participate in ROTC, the Reserve Officer Training Corps, which provides full scholarships to those selected for participation. Contact your local Army or Air Force office for answers to any additional questions you may have.
References
Writer Bio
Tiffany C. Wright has been writing since 2007. She is a business owner, interim CEO and author of "Solving the Capital Equation: Financing Solutions for Small Businesses." Wright has helped companies obtain more than $31 million in financing. She holds a master's degree in finance and entrepreneurial management from the Wharton School of the University of Pennsylvania.