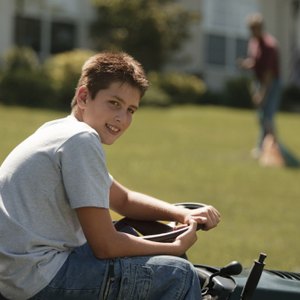 •••
Comstock/Comstock/Getty Images
If you're a 14-year-old boy, chances are there are a lot of times where you wish you had your own money to buy what you want. Working part-time or during the summer is the perfect way to earn some extra money doing chores or activities that you enjoy. Working on your own will teach you responsibility and accountability, but most importantly, you get to be your own boss. Many successful business leaders, including Richard Branson, founder of Virgin Airlines, started out working for themselves as teens. Often you don't have to look any further than your own neighborhood to find the right job.
Create a list of the activities you are good at or enjoy. For instance, if you excel at school in a particular subject, include that on the list. Think of chores you already do at home, like washing cars, mowing lawns, taking care of pets -- these are all potential business ideas.
Consider your neighbors as potential customers. In looking at your list, write the names of neighbors who have a need for any of the services you can offer. If one of your items was excelling at math, and there are a lot of younger children in your neighborhood, a math tutoring business could be a perfect fit. If many of your neighbors have expensive, luxury vehicles, and you know how to hand-wash a car, a car washing and detailing business fits your "market."
Create a pricing list. In order to be a successful teen business owner, you need to charge a fair price and provide a value to your customers. If you decide to start a car-washing business, think about what might differentiate yours from a typical car wash. Many people who work during the week might not want to take their car to the car wash on their day off, so having a service that comes to them is a value. Depending on where you live, a typical hand-washing service charges between $15 and $25 for exterior wash and vacuuming. If you estimate that you can wash a car and dry it in two hours, $20 is fair price for your service. It's the same cost to the neighbor, but he doesn't have to leave the house.
Create a marketing plan for your business. You have to let your neighbors know about your services. The best way to let your neighbors know what you have to offer is to create a flyer describing your business. If you've decided to start a yard maintenance business, for instance, you could create a price sheet and even include pictures of your own yard with before and after images that showcase your abilities. Give out the flyers to your neighbors in person, and always remember to be polite and professional. Include your contact information, and let your neighbors know your availability.
References
Writer Bio
Based in Miami, Kristen Bennett has been writing for business and pleasure since 1999. Bennett's work has appeared online at MarketWatch, The Motley Fool and in several internal company publications. She holds a Bachelor of Arts in economics from the University of Massachusetts, Amherst.