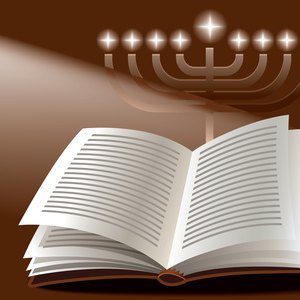 •••
Jewish holiday: menorah, book and sunshine image by Boguslaw Mazur from Fotolia.com
A common feature of Jewish communities around the world is the strong infrastructure for charitable giving, usually organized at the grass roots by the local synagogues and temples and coordinated by the local Jewish Federation. Clothing charities are often referred to by their Hebrew term "gemach" (an abbreviation of the Hebrew term "gemilut chasadim," or "acts of kindness"), and they are a common form of organized charity, or "tsedakah," in every Jewish congregation. Many charities will arrange to pick up your donations if you live within their service area; others, such as the Jewish Family Services of Seattle, will not take donations but offer referrals to organizations that do accept clothing, and then they will distribute vouchers to their client populations that may be redeemed at thrift stores run by these charities.
Vintage Thrift
Some communities recycle clothing by offering the articles for sale in a thrift shop such as Vintage Thrift in New York City. The funds raised by these nonprofit thrift shops are then dedicated to other charities in the Jewish community. In the case of Vintage Thrift, the money is directed to the United Jewish Council of the East Side.
Project Machson
Other communities distribute the clothing directly to the needy, sometimes through mobile charities like Project Machson, also in New York City. Vans will pick up clothing (and furniture) and then deliver it to needy Jews in several neighborhoods in and around New York City.
Jewish Russian Community Center
The Jewish Russian Community Center of Ontario accepts clothing donations in a network of donation bins all across Canada. These bins, which are placed in shopping malls and other areas with public access, recycle the clothing by redistributing it to the needy in Canada and internationally.
Baby G'mach
The Passaic, N.J. charity Baby G'mach is a great place to donate baby clothing (up to size 2T). They welcome donations of other baby-related items like cribs and changing tables, and will arrange to pick items up from you if you live in the area.
Umbrella Clothing Collection
Maplewood, N.J.-based Umbrella Clothing Collection will pick up articles of clothing and other fabric-based goods such as linens or towels, even soft shoes. You can also drop off articles for Umbrella Clothing Collection to distribute at the Jewish Center of Teaneck, N.J.
Yad Leah
Yad Leah (Hebrew for the "hand of Leah") will accept used clothing in excellent condition to be sent to Israel. This is a national nonprofit organization (see Resources).
Jewish Family Service of Seattle
The Jewish Family Service of Seattle maintains a database of several charities that accept clothing (including Life Long Aids Alliance, Northwest Center, Eastside Baby Corner). While the Jewish Family Service does not accept donations of clothing, they distribute vouchers to needy members of the Jewish community to be used at thrift stores run by these other organizations, so donations ultimately benefit the local Jewish population as well as the overall population.
Jewish Recycling Center
The Jewish Recycling Center, run by the Soref Jewish Community Center in Hallandale, Fla. arranges pickup of clothing for sale at their thrift shop.
References
Resources
Writer Bio
Ploni Almoni began writing professionally in 1990. Since then, he has published widely in scholarly journals such as "Slavic Review," "Transcultural Psychiatry" and "Thought and Action." Almoni earned a Doctor of Philosophy in history from the University of Toronto.