What Items Can Be Purchased With Food Stamps or EBT in Georgia?
by Catherine Lovering ; Updated July 27, 2017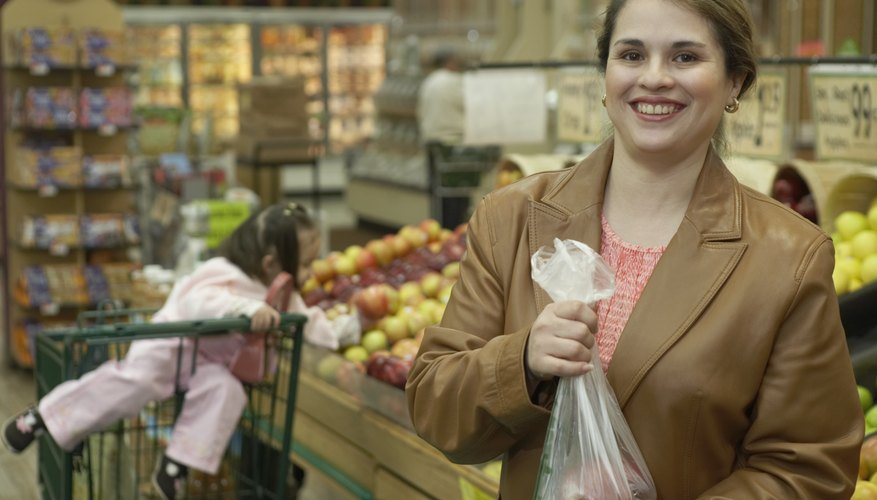 Benefits under Georgia's food stamp program, known as the Supplemental Nutrition Assistance Program, are applied to an EBT card. The card may be used to buy household food but there are many restrictions on eligible food purchases. Vitamins, hot food and in-store meals are among the excluded items.
Eligible Food Items
Food stamps may be used for fruits, vegetables, breads, cereals, meat, fish, poultry, dairy and seeds to grow food. The Georgia Department of Human Resources further states that water, ice, and some supplements such as Ensure are eligible purchases. Energy drinks with a "nutrition facts" label are eligible, while energy drinks with a "supplement facts" label are not. Pumpkins are eligible because they are edible; but Halloween or fall decorations, including gourds, are not. Gift baskets and birthday cakes are eligible as long as the value of the edible portion is more than 50 percent of its purchase price
Excluded Items
Georgia official documents list medicines, soap, vitamins, pet foods, nonfood items as ineligible for purchase with SNAP funds. Consumables such as alcohol and food to be eaten in the store are also excluded. Food stamps also cannot be used for tobacco products or cigarettes.
Photo Credits
Jack Hollingsworth/Photodisc/Getty Images