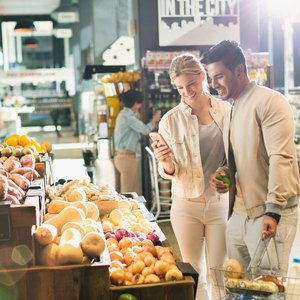 •••
Hoxton/Tom Merton/Hoxton/GettyImages
Households that need a little help purchasing groceries each month can take advantage of the Supplemental Nutrition Assistance Program, also commonly referred to as SNAP. This program is federally funded and is available to low-income families. If you're approved for the program, you'll be issued an EBT card, which you will need to present at the grocery store to pay for the food. It is important to note that not all food items are eligible, so Georgia residents will need to be aware of what they can and cannot buy before they shop.
Food stamps and EBT cards can be used to purchase a variety of essential groceries. That being said, certain items may not be eligible based upon current Georgia statutes.
Who Qualifies for Food Benefits?
SNAP eligibility is determined by income. A two-person household cannot earn more than $21,398 per year; however, a family of four can make up to $32,630. The limit for a family of eight is $55,094, with $5,616 allowable for each additional family member after that. Once you qualify, the organization will use your income, allowable deductions and household size to determine how much money will be loaded on to your EBT card each month. If your income rises above 130 percent of the federal poverty level at any time after your approval, you need to notify the agency.
How Your EBT Card Works
As soon as the EBT card is issued to you, you'll need to select a PIN number. Next, look at the last two digits of your card, as these determine when your benefits are loaded each month. (Numbers 00-09 are available on the fifth of the month, 10-19 on the seventh, 20-29 on the ninth, 30-39 on the 11th, 40-49 on the 13th, 50-59 on the 15th, 60-69 on the 17th, 70-79 on the 19th, 80-89 on the 21st and 90-99 on the 23rd.) Finally, swipe the card at the grocery store and enter your PIN to make a purchase. If you have any questions about the program or how your EBT card works, call the state Division of Family and Children Services (DFCS) at 1-800-869-1150.
Eligible Food Purchases
EBT cardholders can use their SNAP benefits to buy seeds so that they can grow their own food. The money also can be spent on traditional grocery items, such as cereal, milk, fresh or canned fruits and vegetables, meats and foods in the frozen food aisle. Additionally, benefits may pay for water, ice and any foods that are room temperature, but not made to be eaten in the store. A few specialty items are allowed, such as adult-nutrition drinks and infant formula.
Non-Eligible Food Purchases
When it comes to non-eligible food items, you'll want to make sure not to add any paper products, diapers, pet foods, alcoholic beverages, cigarettes, cosmetics or energy drinks to your cart. Hot prepared food items are also not allowed, and neither are cleaning supplies, personal care items or medicines.
References
Writer Bio
Alicia Bodine is a New Jersey-based writer specializing in finance. With more than 13 years of experience, her work has appeared in LendingTree, GoBankingRates, Sapling, Zacks and budgeting.thenest.com.