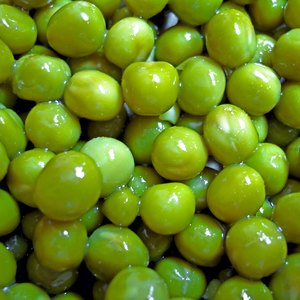 •••
green peas image by DianaStrizhigotskaya from Fotolia.com
SNAP, or the Supplemental Nutrition Assistance Program, is the USDA Food and Nutrition Services' food stamp program launched in October 2008 with some big differences from the previous program. Instead of the food stamp coupons, low-income families are now awarded EBT, or electronic benefit transfer cards that can be used in millions of qualifying nationwide grocery markets, convenience stores, and even farmer's markets. Knowing what foods are available with your SNAP EBT card allows you to make the most of your monthly SNAP allowance.
Grocery and Convenience Store Foods
The only items that can be bought at the grocery store with your SNAP EBT card are food items, such as meat, veggies, whole grains, fruit, dairy products, cereals, frozen food, canned food and cooking or baking staples such as flour, cooking oils or seasonings. Food items such as pre-prepared, ready-to-eat dinners or any item served hot in the store is prohibited. Non-food grocery store items, such as cleaners, pet supplies, vitamins, medicine and paper goods also do not qualify. Your SNAP EBT card cannot be used to purchase any cigarettes or tobacco products, or any alcoholic beverages such as beer, wine or liquor.
Seeds and Food-Bearing Plants
For the indoor or outdoor home gardener, SNAP EBT cards may be used to purchase seeds and food-bearing plants, according to the USDA Food and Nutrition Services website. Plants and seeds can be purchased with your SNAP EBT card at any grocery store or seed retailer that participates in the SNAP program. The website SNAP Retailer Locator provides a list of all SNAP retailers in your area, including non-food retailers.
Farmer's Market Produce
A great way to eat local while still receiving free, federally-funded groceries, farmer's markets now take SNAP EBT cards in many areas across the U.S. While many farmer's markets are still catching up with the technology of a debit card swipe system, states such as California are stepping up efforts to make the Farmer's Market SNAP benefit more user friendly and locally viable.
References
Writer Bio
Leah Waldron is the head of Traveler Services at First Abroad, a gap year travel company based in Boston and London. As a travel, research and LGBT news writer, Waldron has publication credit on magazines and newspapers including "Curve Magazine," "USA Today," "The Sun Sentinel" and the "The Houston Chronicle." Waldron has a bachelor's and master's degree in creative writing from Florida State University.