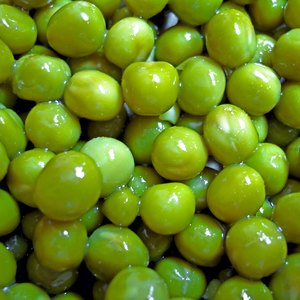 •••
green peas image by DianaStrizhigotskaya from Fotolia.com
Food stamps are no more – they've been replaced by EBT cards. However, the program for getting help with your food budget is still similar. You can use your Supplemental Nutrition Assistance Budget (SNAP) benefits to purchase a wide variety of foods and beverages, but many items in a grocery or convenience store are off-limits with an EBT card.
Knowing what you can and can't buy with your SNAP benefits will help you plan your shopping trips better and avoid awkward situations at the checkout counter.
Basic Non-Prepared Foods
You can buy most common food items and beverages with an EBT card. These include fresh, frozen and canned fruits and vegetables, meat, fish and poultry, bakery items, dairy products, cereals, snacks, non-alcoholic beverages and items such as flour, salt and other seasonings and cooking oil.
You might be surprised to learn that canned and frozen fruits vegetables are not only as nutritious as fresh, but in some cases, more nutritious. Even if they're just as nutritious, you'll be able to buy more if you buy frozen or canned, giving you more food for your budget. If you've been buying organics, you might be surprised to learn that they might also not be more "nutritious," according to SmartHealthyLiving.net.
Foods to Avoid
You generally can't purchase items that are prepared in the store, such as fried chicken, pizza or sandwiches, or frozen foods you heat in the store, such as burritos. In some cases, you'll see stickers on these items that state that they are "EBT eligible." These items usually cost much more than if you make them yourself, however. A frozen dinner, for example, might cost $4 or more – you can make a four-course meal for much less than that, according to FoodStampChallenge.com.
Non-Food Items Aren't Eligible
Even though you need things like napkins, paper towels, dishwashing liquid, sponges and freezer bags, they aren't eligible for SNAP purchase. You also can't buy cooking utensils such as pots and pans, spatulas, serving spoons, a meat thermometer or pasta strainer. You can't buy toilet paper, diapers, medicine or supplements, either. You can keep up to date by visiting the USDA's website to see which foods are eligible for purchase with your EBT card.
Stretching Your Budget
You might be amazed at how many meals you can make for less than $1 if you smart-shop. Smart-shopping refers to buying items in bulk, looking for manager's specials, waiting for BOGOs (buy-one-get-one-free sales), using paper and digital coupons, signing up for store loyalty programs and redeeming rebate coupons.
References
Writer Bio
Steve Milano has written more than 1,000 pieces of personal finance and frugal living articles for dozens of websites, including Motley Fool, Zacks, Bankrate, Quickbooks, SmartyCents, Knew Money, Don't Waste Your Money and Credit Card Ideas, as well as his own websites.