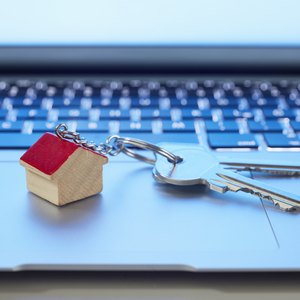 Alongside competing real estate websites such as Realtor.com and Redfin, Zillow is a major marketplace for buying or selling homes or seeking rental property options. Over time, the site has evolved into a one-stop solution, as the Zillow Group maintains a network with real estate professionals and offers financing and closing services directly. While you could possibly use Zillow for most of what, or all, you need, there are some limitations that might make you consider other options. Therefore, you'll want to learn how Zillow is involved throughout the whole homebuying process.
Researching New Homes Using Zillow
Whether you use only Zillow or not, the platform is valuable for seeing what's currently available for sale. The site has a large collection of property listings, using data obtained through sources such as the local multiple listing service (MLS), public records and listings submitted by sellers and agents. Each listing shows details such as the price/value, description, tax history, pictures, neighborhood details and scheduled open houses. There are also options to estimate mortgage payments, contact an agent or schedule a tour.
Zillow also makes it easy to see any home's estimated resale value with its Zestimate model, which uses an algorithm based on factors such as the home's characteristics and comparable sales. You can look at a home's Zestimate even if it's not on the market, so this is a handy way to get a rough, fair market value as an aspiring home seller or buyer. However, the company advertises the estimate will be more accurate for on-market properties than off-market ones.
Despite being a helpful tool for exploring the open market, keep in mind that not all properties for sale – such as some for-sale-by-owner (FSBO) homes – will be on Zillow. Due to how Zillow pulls data from multiple sources and estimates some values, property information may sometimes be inaccurate, incomplete or outdated. For example, there can be delays updating MLS data, or the Zestimate for a property may not reflect a proper valuation due to recent renovations the owner made.
Exploring Zillow's Options for Home Sellers
If you're selling a home as well as buying one, you'll want to also look into Zillow's offerings to decide whether to let the company handle that process for you too. Previously, the company's business model included a service called Zillow Offers. This was an iBuyer program that let you easily get a cash offer for your home without having to go through the typical selling process. However, Zillow doesn't offer this convention option anymore.
While you could possibly use Zillow for most or all you need, there are some limitations that might make you consider other options.
Now you can sell your property through one of Zillow's affiliated agents and take advantage of the Zillow 360 program. Made to streamline the buying and selling processes, Zillow 360 can provide you with the real estate, financing and closing professionals needed. It also advertises lower costs due to closing credits and a percentage of cash back based on your home's sale price.
Even if you decide to just use Zillow for the buying process, you can find an unaffiliated listing agent or sell without an agent at all. You can also sell your home for cash to a different company. You'll want to think about the potential profit based on your home value and expenses, along with the complexity and time involved during the home selling process with the different methods.
Finding a Real Estate Agent
When you're ready to start visiting potential homes, get advice on the home sale process or make offers, one option is to use the Zillow Premier Agent program. How it works is that you can get paired with an agent by simply clicking the "Contact Agent" or "Take a Tour" button on a property's listing. From there, you can quickly start communicating with the agent, who can also view your recent Zillow activity for your convenience. The site lets you change agents too, if yours isn't a good fit.
If you want more control over which agent you use, Zillow has a "Find an Agent" tool that lets you check the large directory of affiliated agents in your area. Along with selecting their location, name and language, you can filter by specialty. For example, if you're interested in an FSBO home, you would search for a buyer agent, while you'd search for a listing agent to sell your home. You'll see details, reviews and a contact form to use.
However, you might opt to not use Zillow's tools to find an agent in some circumstances. For example, your friends or family might have a recommended agent who's an expert in your area but isn't part of Zillow's network. In addition, you might want to find agents charging lower commission rates. And while it involves more time and hassle, you might opt to not use an agent for the selling or buying process to eliminate agent commission costs.
Getting Home Financing With Zillow
Zillow offers homebuyers a few home financing options. Authorized in most states, Zillow Home Loans is a lender that you can use for a purchase or refinance mortgage, and it allows for conventional, Federal Housing Administration (FHA) and Veterans Affairs (VA) loans. If you live in an ineligible state (such as New York) or you want more variety, you can use the site's lender's directory to find and contact a partnering lender. You can also access calculators and current mortgage rate information on the Zillow website.
While this means you can use Zillow for the whole financing process, there are potential downsides to doing so. For example, Zillow Home Loans offers convenience but no jumbo or U.S. Department of Agriculture (USDA) loan options. While the lender network offers plenty of choices, you still might find better rates or have a better experience going with an out-of-network lender. You'll also want to explore compatibility with any special first-time homeowner programs and homebuyers with special credit situations.
Completing Your Closing Through Zillow
Once you've got your final offer approved and found financing, you may be able to complete the title and closing processes through Zillow Closing Services, although you may need a separate escrow company depending on your location. This program works with all parties involved in the buying and selling processes to finalize the transaction. Therefore, it can be a convenient alternative to arranging all these details with your lender and real estate agent.
You'll first need to check if it's licensed in your state and what services are available. For example, if you're buying a home in San Diego, California or Phoenix, Arizona, then you could access escrow, title and closing services through Zillow. However, Zillow doesn't offer any of these services in West Virginia or Utah. In addition, states such as Ohio, Nebraska and Florida don't have Zillow listed for providing escrow services.
Whether you use Zillow Closing Services or your own companies and professionals, know that some other steps like the home inspection still require outside providers. In addition, keep closing costs in mind and consider shopping around for services that have varying costs. Also, you'll want to ask about the expected closing date since it can vary depending on the complexity of your home transaction and the professionals you choose.
References
Writer Bio
Ashley Donohoe has written about business and technology topics since 2010. Having a Master of Business Administration degree, bookkeeping certification and experience running a small business and doing tax returns, she is knowledgeable about the tax issues individuals and businesses face. Other places featuring her business writing include Zacks, JobHero, LoveToKnow, Bizfluent, Chron and Study.com.