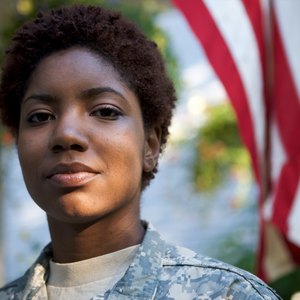 •••
Tim Bieber/DigitalVision/GettyImages
Auto insurance is a necessary part of driving a car. In fact, in many states, it's required by law. But if you're a member of the military, you have specialized insurance needs. You also have access to discounts not available to other members of the population.
What Is Military Car Insurance?
Whether you're in the military or not, you need insurance coverage for your belongings, including your home and vehicles. But if you're active duty, you may be deployed for months at a time. You may also have a spouse and children that need a safe, insured vehicle to drive while you're away.
Insurance companies recognize these specialized needs. To help military members, they offer insurance tailored toward those who are currently serving, as well as military veterans. If you've ever served, or are currently serving, you may be eligible for special rates due to that affiliation.
Who Qualifies as Military?
The U.S. Department of Defense defines military personnel as "an all-volunteer force that serves to protect our security and way of life. If you're active-duty military, you serve in one of these branches of the military: Army, Marine Corps, Navy, Air Force, Space Force or Coast Guard. Spouses of military members are also typically eligible for military perks and discounts.
But active-duty members aren't the only ones eligible for a military discount. Military vets often get access to the same perks. A military veteran is someone who "served in the active military, naval, or air service, and who was discharged or released therefrom under conditions other than dishonorable."
In addition to active-duty and veterans, many insurers include those in service academies as military members. Members who are either in ROTC or on ROTC scholarships, as well as military professionals serving in the Reserves, can also qualify for military insurance.
Car Insurance Through USAA
Military service members and veterans have exclusive access to United Services Automobile Association (USAA), which offers special benefits, products and discounts to current and past members of the U.S. military. Spouses and children can also enjoy these benefits.
If you're active-duty military, signing up for USAA membership can help you get savings you wouldn't be eligible for otherwise. You also benefit from getting your insurance through an organization that understands the unique needs of military personnel and veterans. This could help you save money by not paying for coverage that doesn't apply to your situation.
Car Insurance Through Other Insurers
Military members and veterans don't have to go through USAA to get a good deal. In fact, even if you're quoted a low rate with USAA, you should price other insurers to make sure you're getting the lowest rate.
Here are some things to look for if you're pricing auto insurance with multiple providers:
Military member discounts
Discounts for low mileage
Substantial discounts for stowing your vehicle while deployed
Discounts for a good driving record
Easy cancellation and reinstatement if you choose to put your policy on hold while deployed
Coverage for spouses, widows/widowers and dependents of military personnel
Military Car Insurance Rates
A variety of things affect the car insurance rates you're quoted. As a military member, you can save money through the insurance discounts some insurers offer to support those who serve their country. But as a military member, you may need to move often or be deployed overseas for months at a time.
Here are some factors that impact the premiums you pay for car insurance:
​Type of car insurance coverage.​ Comprehensive insurance is more expensive than liability insurance, since comprehensive insurance covers your vehicle as well as any vehicles you damage.
​Deductible.​ A higher deductible keeps your costs low, but you'll have to pay more out of pocket if you do have a claim.
​Number of past claims.​ If you've had multiple accidents recently, you may be seen as high risk and therefore have higher premiums.
​Average mileage driven.​ This is where military members can save. If you only drive around base and to the nearby town, you can save on your insurance due to the low mileage you rack up each year.
​Location of the vehicle.​ Being in a safe area, like a military base, can work to your advantage if there's a low incidence of theft and vandalism there.
​Your demographics.​ Military or not, your age and gender play a role in how much you pay. According to Insurance.com, ​16-year-old boys​ pay ​14 percent​ more for auto insurance than ​16-year-old girls,​ and continue to pay more until they reach middle age.
How USAA Insurance Works
Members of the Armed Forces can join USAA for free. In addition to discounted insurance rates, you also get fee-free checking, financial advice and members-only discounts on shopping, travel and more.
In addition to the lower rates, you can also save with the following features if you:
Maintain a good driving record for more than ​five years​
Take a USAA-approved defensive driving course
Take a basic driving course
Have an student on your policy who can get a discount for good grades
Have an excellent credit score
Suspending Your Coverage
Before signing a policy for auto insurance, check into the options available if you're deployed. The best car insurance companies will at least give you a discount. But in some cases, you can suspend part or all of your coverage if you're not able to drive your car for a time due to deployment.
Some car insurance companies won't let you suspend the entire coverage. Check into whether you can suspend these features while you're deployed:
Uninsured/underinsured motorist
Coverage for accident-related medical payments
Personal injury protection
Rental reimbursement
Charges for towing after an accident
Storing Your Vehicle
Whether your insurer offers auto insurance discounts or lets you suspend your coverage while you're deployed, pay close attention to the insurance coverage requirements in your state. If there's a possibility your vehicle could be driven while you're away, you need to keep at least the minimum coverage required by your state on it.
One solution for this is to store your car. You can arrange this in advance in case you ever experience an emergency deployment. You can rent a vehicle storage unit, just as you'd rent a storage unit for your belongings.
Insurance for Spouses and Dependents
As you're getting auto insurance quotes, keep an eye on what's being offered for your family members. Your spouse and driving-age dependents should get discounts on their auto insurance, as well. If you have a younger family member who's driving, make sure to factor in whether there are discounts for things like getting good grades and taking driving courses.
The benefits extended to members of the military don't end if they die. Surviving widows/widowers and dependents also qualify for military discounts. The USAA offers discounts to widows, so make sure you price that before looking into other auto insurers.
Bundling Other Insurance Types
Another way to save on auto insurance is to bundle it with other policies. As a member of the Armed Forces, you won't get discounts solely on military car insurance. You can also save by bundling your home and life insurance. This gives you the convenience of having all your insurance policies with one company.
USAA offers bundling discounts if you combine your auto with homeowners or renters insurance. You can also get life insurance through USAA, although it isn't part of their bundling options. Geico also offers competitive rates for military members and has multipolicy discounts for policyholders.
Paying Premiums While Deployed
An inevitable part of military service for some members is deployment. It may only happen once or twice, but when it does, you need to make sure your bills are taken care of. Military couples have a spouse left behind to take care of bills unless both are deployed at the same time, but if you're single, you need a plan to ensure that everything is paid.
Autopay is a huge help in situations like deployments. However, this is where working with an insurer that specializes in military policies can help. Your insurer should be well aware that if you miss a payment, deployment could be the reason, and they should give you some leeway. It can't hurt to contact your insurer if you have a deployment coming up, in case a payment falls through while you're gone.
Discounts Through Military Organizations
Car insurance discounts aren't limited to members of the Armed Forces. Service members are eligible for the same discounts the general population gets. In fact, you should price rates with these discounts and compare them to what you can get with military discounts.
Many auto insurance companies now offer discounts for certain professions. Teachers and police officers can get discounts, for instance. If you're a member of AARP, AAA or a credit union, check to see if auto insurance discounts are available to members.
Choosing the Right Provider
Yes, it's great to get a discount on your auto insurance based on your military service. However, just because an insurer provides special rates for military service people doesn't mean that's a good insurer. As you're weighing insurance options, keep in mind the quality of coverage you're getting.
Sites like Trustpilot, Consumer Reports and the Better Business Bureau can give you a full picture of the coverage at various insurers. Specifically, check to make sure that the insurer issues payment expeditiously, just in case you end up having a claim. Look for any complaints, especially where it concerns questions about their licensing.
Where to Find Auto Insurance
It's never been easier to get a car insurance policy. You can go with a local broker, as consumers did before the internet, but even if you go that route, it can be a wise idea to research your options online. At the very least, you can get quotes and compare them to what a broker is offering.
There are plenty of sites where you can input your information once and get quotes from multiple insurers who are eager to get your business. Some sites even let you upload your current policy and give you quotes based on identical coverage to what you have now. Pricing multiple insurance companies at once can be done so quickly that it's worth it to make sure you're getting the best rate.
Whether you go with USAA or look for insurance discounts elsewhere, it's important to make sure your insurer understands the unique needs of military members. If you're living on a military base and driving infrequently, you may qualify for discounts available to the general population, but you also need an insurer that understands the special needs of deployed service members.
References
Writer Bio
Stephanie Faris has written about finance for entrepreneurs and marketing firms since 2013. She spent nearly a year as a ghostwriter for a credit card processing service and has ghostwritten about finance for numerous marketing firms and entrepreneurs. Her work has appeared on The Motley Fool, MoneyGeek, Ecommerce Insiders, GoBankingRates, and ThriveBy30.