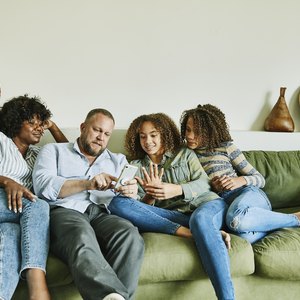 •••
Thomas Barwick/DigitalVision/GettyImages
Most schools do not have courses that teach students how to handle their personal finances. The Greenlight card can help parents with this important responsibility.
Here's a look at how the Greenlight debit card works and how it can help parents teach their kids to handle their finances.
What is a Greenlight Card?
Greenlight is a prepaid debit card, not a credit card, designed for kids and teenagers, ​ages 8-18​. It allows parents a simple way to give their children a regular allowance and, at the same time, teach them the principles of basic financial management.
Kids learn financial concepts about spending, saving and earning interest. With money on their debit card, kids can decide whether to spend their money, add to their savings account or give to a charity.
Parents get to decide where their child can spend their money and how much. Parents can also just decide whether to give their kids access to an ATM and, if they do, how much they can withdraw.
Money that parents put in their kids' accounts can be a regular allowance or tied to the completion of chores. Greenlight will send a notice to the parent whenever a child has completed an assignment chore with a request for payment.
How Does Greenlight Work?
Funds that are transferred into a child's account go into two categories. The first category lets your child spend anywhere they want. The second category restricts their spending to certain kinds of retailers. If a child tries to purchase something at a store not approved by the parent, the transaction will be refused.
Greenlight has a unique feature for teaching kids about savings. If a child chooses to use some of their money for savings, the account will earn interest but it will be paid out of the parents' account. Greenlight does not pay interest on savings account balances. The child will get to see their savings account grow with interest and realize the benefits of compounding interest.
Parents receive real-time notifications any time their child uses the card. The notification will tell the parent how much was spent and where. Greenlight will also send notifications on low balances or when a purchase is declined. You can allow your child to ask for more money on the spot through the app, and if you approve, you can transfer funds to your kid's card for immediate availability.
Money that goes into the "Spend Anywhere" account lets your child spend the money wherever they want. A Greenlight debit card can be used anywhere that accepts Mastercard.
If your child is working, Greenlight will accept direct deposits of their paychecks. However, Greenlight does not accept transfers from other mobile payment apps such as Apple Cash or Venmo.
How to Apply for a Greenlight Card
Applying for a Greenlight card is simple. Go to their application link and enter your e-mail address, full name, mobile number, home address, date of birth and Social Security number. Then accept the agreement, set up funding methods and submit your application for verification.
How to Use It
The Greenlight card can be set up to automatically send allowances on a weekly or monthly basis. It can also be set up to pay kids when they complete a chore.
Although Greenlight does not pay interest on balances, parents can set up to pay interest out of their own pockets on kids' balances. Interest is paid monthly on the previous month's average daily balance in your child's savings account.
What are the Limitations?
Limitations on balances and transfers are as follows:
The maximum card balance is ​$10,000​ for a parent and ​$5,000​ for a child account.
ACH transfers are limited to ​$200 a day​ and ​$300 a month​. Debit card transfers must range from a minimum of ​$20 per day​ to a maximum of ​$500 a day​ or ​$20 to $2,500 a month.​
Direct deposit maximums are ​$100 a day​ per child account and up to ​$5,000 a month​ for the family account.
What Controls Can Parents Put on Greenlight?
Parents can set limits on the amount that can be spent and when they can spend it. In addition, parents can add their own restricted types of businesses. If you don't want your child shopping on Amazon, you can set up the app to block all purchases on Amazon.
In addition to parental controls, Greenlight has its own internal safety features. A child will not be able to spend money at businesses engaged in such activities as securities trading, gambling, massage parlors, lotteries or adult entertainment.
What is the Cost?
Greenlight is free for the first month, but it costs ​$4.99 per month​ per family after that. However, you can have debit cards for up to five children. For ​$9.99,​ you can personalize your child's card with their photo.
Transfers of money to the child's card are free. Greenlight does not charge a fee for ATM withdrawals, but the owner or operator of the ATM may charge a fee.
Replacing a lost card free the first time but will cost you ​$3.50​ for each replacement after that.
Greenlight's fees are very similar to the fees charged by Famzoo, another popular prepaid debit card for kids.
Is Greenlight Safe?
Greenlight uses encrypted codes for all transfers of data and on its servers. Therefore, data on Greenlight is as safe as other bank credit and debit cards.
Greenlight cards offer a personal identification number to protect against unauthorized charges. If a card is lost or stolen, you can freeze the account directly with the app on your smartphone.
Since Greenlight works with a partner bank, balances on the card are insured by the FDIC up to ​$250,000.​
Customer Service
Unlike many other mobile apps and debit card providers, Greenlight maintains a live customer service facility. You can speak with a person to resolve any problems you might have. You're not restricted to sending emails and conducting online chats.
The purpose of Greenlight is to make parents' lives easier and to teach kids and teenagers how to manage their money. Since we are moving into an increasingly cashless society, giving kids the opportunity to learn how to use debit cards is becoming more important.
Instead of kids seeing their parents as an infinite source of money, they learn to check the balances in their Greenlight account before spending on impulse purchases. They learn to stop and think before spending.
References
Writer Bio
James Woodruff has been a management consultant to more than 1,000 small businesses. As a senior management consultant and owner, he used his technical expertise to conduct an analysis of a company's operational, financial and business management issues. James has been writing business and finance related topics for work.chron, bizfluent.com, smallbusiness.chron.com and e-commerce websites since 2007. He graduated from Georgia Tech with a Bachelor of Mechanical Engineering and received an MBA from Columbia University.