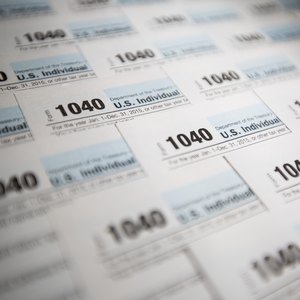 •••
Bloomberg Creative Photos/Bloomberg Creative Photos/GettyImages
There are so many steps to organizing a business and so many forms to submit and receive that it can be easy to lose track of every hoop you must jump through to get your business off the ground. Some are major hurdles, like choosing your organizational structure and filing registration papers with your state. Others, such as receiving a Form CP 575 from the IRS, happen so automatically that you may not even be aware things are falling into place for your company.
IRS Form CP 575 allows you to formally establish your Employer Identification Number, an essential element of your yearly tax return documents.
Purpose of Form CP 575
The IRS uses Form CP 575 as a formal acknowledgement of your Employer Identification Number, or EIN. The IRS issues Form CP 575 to business owners after they apply for their EIN. You should receive it in the mail a couple weeks after you apply, regardless of the method in which you used to apply for your EIN, although you don't need to have your CP 575 to begin using an EIN issued instantly online or over the phone. It confirms your business' name, address and your EIN.
Applying for an EIN
If you haven't applied for your EIN, you'll need to do get that ball rolling before the IRS mails your Form CP 575. Applying for an EIN is a simple matter, and can be done in several ways. Traditionally, businesses submit a Form SS-4, which discloses the business name, individuals responsible for its operation, its location and type of business. If you want to speed up the application process, you may apply for an EIN using the IRS's online application system. Or, if you are an international applicant, you can call 267-941-1099.
When You Don't Need an EIN
You may not be required to receive an EIN for your business, and, in turn, won't receive a Form CP 575. The IRS only requires businesses that plan to hire employees to have an EIN. While registering a company with the IRS may generate an EIN, you don't need one to do business. If you're a sole proprietor, you use your Social Security number to identify your business activities, which, because of laws that govern taxation and liability, are one and the same with your personal finances.
Using Your CP 575
Although your CP 575 may largely seem like just housekeeping on the part of the IRS, don't discount the form when you receive it. File it with the other documents that pertain to your business' organization and start-up procedure, as you may need to refer to it later. Some processes, such as securing a Medicare provider for your employees, may require you to present a copy of your CP 575 to confirm your company's information.
References
Writer Bio
Wilhelm Schnotz has worked as a freelance writer since 1998, covering arts and entertainment, culture and financial stories for a variety of consumer publications. His work has appeared in dozens of print titles, including "TV Guide" and "The Dallas Observer." Schnotz holds a Bachelor of Arts in journalism from Colorado State University.