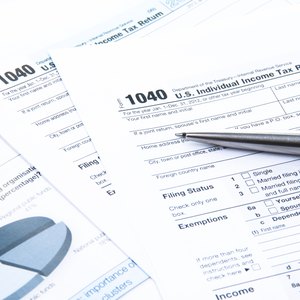 •••
Drazen_/iStock/Getty Images
When you file your federal income taxes, Schedule B lists your sources of interest and dividend income for the year, such as interest paid to you on investment accounts or proceeds from cashing in savings bonds. When you file your taxes, you can check how much interest or dividends you received because the payer should send you a Form 1099-INT, 1099-DIV or 1099-OID. However, you don't need to attach those forms to your tax return when you file with the Internal Revenue Service.
Who Must File
According to the IRS instructions, you're required to file Schedule B if you have more than $1,500 of taxable interest, more than $1,500 of ordinary dividends, any accrued interest on a bond, or received interest from a seller-financed mortgage and the buyer used the property as a personal residence. You also have to file Schedule B if you're excluding interest on a savings bond issued after 1989 because you used the proceeds for higher education or you received interest or dividend income as a nominee -- meaning it was paid in your name, but actually belongs to someone else.
References
Writer Bio
Based in the Kansas City area, Mike specializes in personal finance and business topics. He has been writing since 2009 and has been published by "Quicken," "TurboTax," and "The Motley Fool."