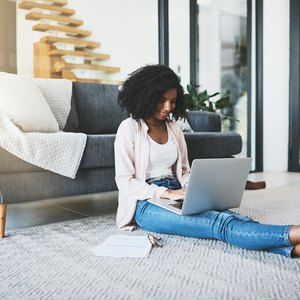 •••
Rowan Jordan/E+/GettyImages
If you've ever been blindsided by one of life's unforeseen financial crises, you may have been plunged into an immediate economic hardship. The Internal Revenue Service provides some options for these unplanned mishaps, which can help ease you back onto firm financial ground again. But the IRS definition of financial hardship covers more than one base. Your financial hardship may make you eligible for an early distribution from an IRS-qualified retirement plan, or you may be able to make a payment arrangement to pay your income tax and possibly reduce the amount of income tax you owe. In some cases, you may even qualify for an earlier-than-usual tax refund.
IRS Financial Hardship Definition
According to the IRS, your financial situation becomes a "hardship" if you're unable to pay certain living expenses. These expenses must meet the "necessary expense test" which the IRS defines as the essential costs to provide for the health and welfare of you and your family as well as your production of income. The guidelines that the IRS uses to gauge these expenses generally fall under two categories – national standards and local standards.
2018 National Standards Living Expenses
The Bureau of Labor Statistics Consumer Expenditure Survey determines the expense limits of the national standards, appropriately named because these allowable expense amounts apply to all taxpayers nationwide. This survey collects financial data from U.S. households, including income and buying habits, and compiles the data into the dollar amounts that represent a standard of living expenses for the average taxpayer. These dollar amounts may change from year to year to reflect cost-of-living adjustments and consumer trends.
National Standards Living Expenses Categories
Five categories of living expenses fall under the National Standards:
Food. Included in the food category is the cost of food you eat at home as well as away from home from fast-food restaurants, full-service restaurants, take-out food and food delivery.

Housekeeping supplies. Allowable housekeeping supply expenses include cleaning supplies, household products and garden supplies.

Apparel and services. This category includes apparel expenses such as clothing, clothing rental, clothing repair, clothing storage, dry cleaning, footwear and jewelry.

Personal care products and services. Cosmetics, oral hygiene products and appliances are some of the examples of expenses allowed in this category.

Miscellaneous allowances. This category includes necessary expenses that do not fit neatly into any of the other four categories such as school supplies, bank charges and credit card payments.

National Standards Living Expense Amounts
When taxpayers experience a financial hardship that leaves them unable to pay these monthly expenses (based on the national standards), they may petition the IRS for help. For the 2018 tax year, these are the allowable monthly amounts by category for living expenses for taxpayers and their dependents under the national standards:
One person: $334

Two people: $646

Three people: $742

Four people: $888
One person: $35

Two people: $64

Three people: $63

Four people: $75
One person: $89

Two people: $142

Three people: $185

Four people: $264
Personal care products and services
One person: $38

Two people: $69

Three people: $71

Four people: $75
One person: $151

Two people: $281

Three people: $323

Four people: $392
Total monthly allowances (food, housekeeping supplies, apparel and services, personal care products and services and miscellaneous allowances)
One person: $647
Two people: $1,202
Three people: $1,384
Four people: $1,694
For households of more than four people, add $357 per person to the four-person allowance.
2018 National Standards Healthcare Expenses
In addition to monthly living expenses, the national standard also establishes a minimum allowance for out-of-pocket health care expenses. Examples of these expenses include medical costs, medical supplies (such as eyeglasses) and prescription drugs. Allowances are based on Medical Expenditure Panel Survey data, and they are in addition to the amount taxpayers pay for their health insurance. These monthly amounts are based solely on age. For taxpayers under the age of 65 (and each dependent under the age of 65), 2018 national standards for health care expenses is $52. For taxpayers over the age of 65 (and each dependent over the age of 65), 2018 national standards for health care expenses is $114.
Local Standards Allowable Living Expenses
Other standard monthly expenses vary, depending on taxpayer location, such as housing, utilities and transportation.
Housing and utilities standard. The U.S. Census Bureau, American Community Survey and BLS data establishes standard housing and utilities costs at the state and county levels for a taxpayer's primary residence. These expenses include, for example, rent or mortgage payments, repairs, maintenance, electric and gas service, water and residential phone service. Visit IRS.gov and click the search icon at the top of the page. Enter "local housing and utilities standards" and click on your state name when the page loads to view the allowable expenses where you live.
Transportation standard. Information pulled from two sources comprises local transportation standards – ownership costs (data from national figures for monthly loan and lease payments) and monthly operating costs (data from census regions and Metropolitan Statistical Areas). Visit IRS.gov and click the search icon at the top of the page. Enter "local transportation standards" and find the region of the country where you live to view allowable transportation expenses.
Exceptions to Expense Standards
The IRS may determine that an individual taxpayer's financial situation doesn't neatly align with the standard allowable expenses. In these cases, the IRS may allow for the taxpayer's actual expenses. On a case-by-case basis, each taxpayer must provide supporting documentation to the IRS that shows how the standard allowable expenses inadequately meet their financial needs.
Financial Hardship for Paying Taxes
If you're unable to pay the income tax you owe, the IRS will consider your financial hardship and work with you to find a resolution. Debt-reduction options include a Partial Payment Installment Agreement and an Offer in Compromise. Taxpayers who cannot even pay a reduced debt may be able to petition the IRS for the status of Currently Not Collectible. This status allows taxpayers to pay their tax debts only if their financial situation improves. Contact the IRS Taxpayer Advocate Service if you're experiencing financial hardship by visiting TaxpayerAdvocate.IRS.gov.
Earlier Refund for Financial Hardship
The Taxpayer Advocate Service may also be able to help by expediting your anticipated tax refund by manually processing it. Contact the Taxpayer Advocate Service to set this ball in motion by explaining your financial hardship situation. In some instances, the IRS cannot issue your refund before Feb. 15; for example, if you claimed the Earned Income Tax Credit.
Retirement Plan Financial Hardship Options
Some retirement plans have provisions for allowing participants the option of receiving hardship distributions, which are early withdrawals from the plan. The IRS places two conditions on these distributions – there must be an "immediate and heavy financial need" and the distribution is "limited to the amount necessary to satisfy that financial need." The taxpayer's employer determines whether these two conditions are met based on the plan's guidelines and the employee's specific circumstances.
401(k) Hardship Withdrawals
If you need a substantial sum of money, and you don't anticipate being able to pay it back, you may be able to withdraw the money from your 401(k) retirement account. In January 2018, the passage of the Bipartisan Budget Act made it easier for taxpayers to make larger-than-before hardship withdrawals from 401(k) accounts. Employees do not have to offer these hardship withdrawals, and if you're able to arrange a 401(k) hardship distribution under the terms of your particular plan, you won't be able to repay the money to your account and you may also have to pay an early withdrawal penalty.
References
Writer Bio
Victoria Lee Blackstone was formerly with Freddie Mac's mortgage acquisition department, where she funded multi-million-dollar loan pools for primary lending institutions, worked on a mortgage fraud task force and wrote the convertible ARM section of the company's policies and procedures manual. Currently, Blackstone is a professional writer with expertise in the fields of mortgage, finance, budgeting and tax. She is the author of more than 2,000 published works for newspapers, magazines, online publications and individual clients.