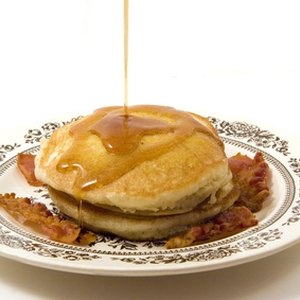 Some investors put their money in gold, others in oil, but the truly bold investor opts for something like pancakes. The International House of Pancakes restaurant chain, or IHOP as it's known to its clientele, is owned by DineEquity Inc., which also owns Applebee's. DineEquity is publicly traded and you can purchase stock in the company if you see a bright future for pancake commodities.
Visit DineEquity.com to learn more about the company. DineEquity owns the IHOP and Applebee's brands and, as of 2010, is the world's largest full-service restaurant company.
Click on "Investor Info" to see the latest investor news and stock trading information.
DineEquity Inc. trades on the New York Stock Exchange under the symbol DIN. Its "Investor Info" page shows the latest stock prices, current and previous SEC filings and has links to management biographies and other corporate information.
Buy DIN shares if the company meets your investment objectives. You can buy shares by opening an account with an online stock broker such as Charles Schwab or TD Ameritrade, which also offer traditional stock broker and financial adviser services.
References
Writer Bio
David Sarokin is a well-known specialist on Internet research. A former researcher with Google Answers, he has been profiled in the "New York Times," the "Washington Post" and in numerous online publications. Based in Washington D.C., he splits his time between several research services, writing content and his work as an environmental specialist with the federal government.