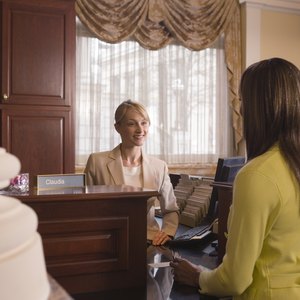 •••
Comstock Images/Comstock/Getty Images
Money can be transferred from bank to bank if you have all of the details and information. The time it takes depends on the institutions.
Significance
When you transfer money from one bank to another, your bank account information, including account number and routing number, is needed. The address of the bank where the money is going to be transferred is needed. You have to visit your bank and present identification.
Considerations
You also will need information from the bank that is receiving the transfer: the name of the person who has the bank account, the routing number and the account number.
Expert Insight
If you are sending money to a bank in another country, you will need the same information. But you may also need is a swift code. This is a code that is needed for banks to accept international transfers.
Function
When funds are transferred internationally there could be an intermediary bank. When the funds leave the transferring bank, they go to the intermediary bank, which then transfers the money to the recipient's bank.
Features
There will be a fee for a wire transfer, which will vary from bank to bank. International wire transfers cost more than domestic. The amount for a domestic transfer can range from $20 to $30, and international fees can be $35 to $40.
Time Frame
The time frame for a wire transfer is usually the same day if it is processed by the bank by a certain cut-off time. Some banks take 24 hours. International wire transfers may take longer, but will vary from bank to bank. The bank receiving the transfer can affect the number of days it takes for a transfer.
References
Writer Bio
Melvin J. Richardson has been a freelance writer for two years with Associated Content, and writes about topics such as banking, credit and collections, goal setting, financial services, management, health and fitness. Richardson has worked for several banks and financial institutions and gained invaluable experience and knowledge. Richardson holds a Master of Business Administration in Executive Management from Ashland University in Ashland Ohio.