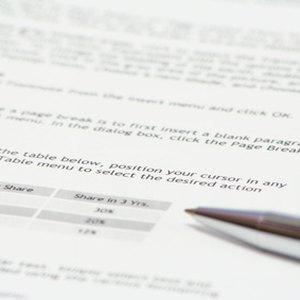 •••
financial report image by Christopher Hall from Fotolia.com
Annual reports provide an overview of a company's operations and its financial standing. But because annual reports are issued only once a year, investors need other, current information to make investment decisions. While there are nearly endless amounts of information outside of annual reports that can relate to an investment decision, there is certain key information to consider.
Quarterly Financial Information
Public companies must file quarterly reports on Form 10-Q with the Securities and Exchange Commission, which are available on the SEC's online EDGAR database. Quarterly reports provide more frequent financial information than an annual report. Companies also provide quarterly earnings releases and usually make the audio from earnings conference calls available to the public. These are usually available on the investor relations page of a company's website and include valuable management discussions about a company's operations.
Industry Information
Although annual reports often contain an overview of a company's industry, investors should research more information before making investment decisions. Reviewing competitors' quarterly and annual reports provides information about their business strategies and a better perspective of the industry. Comparing a company's financial information with that of its competitors can reveal a company's competitive position within its industry and show any strengths and weaknesses.
Company Disclosures and News
The SEC requires public companies to disclose ongoing material information on Form 8-K, known as the current report. A company's officers and directors must submit Form 4 to the SEC each time they buy or sell their company's securities, which can reveal their sentiment about the company's future. These forms are available on the SEC's online EDGAR database. It's also important to stay current on financial news about a company and its competitors, which can affect a company's stock price and alert investors to potential problems.
Stock Price
Investors bid stock prices up or down depending on how much they are willing to pay for a share of stock. Stock prices are widely available on financial websites. Compare a stock's price to your own opinion to help decide when to buy or sell a stock. Prices are also used to compute financial ratios, such as the price-to-earnings ratio, or P/E ratio, which is the ratio of a company's stock price to its earnings per share. Comparing financial ratios with industry averages helps gauge a company's value relative to its peers.