What Papers Do I Need for a Tax Return?
by Trish Jackson ; Updated April 19, 2017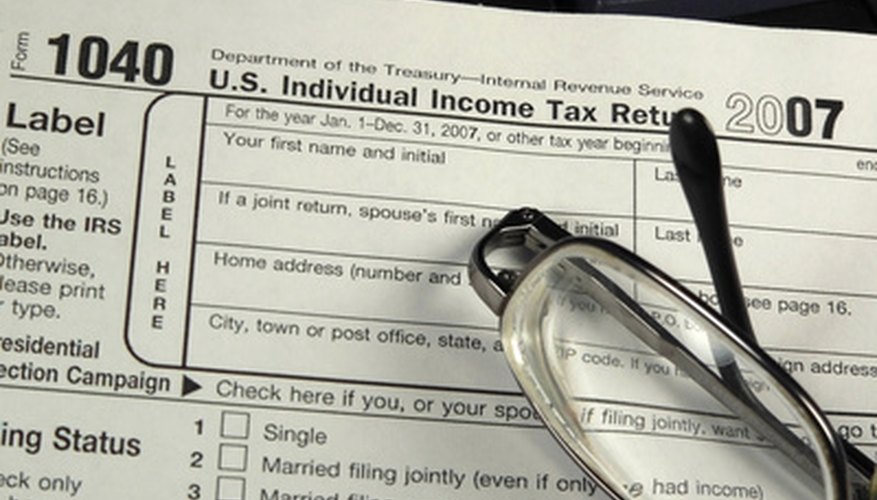 Income tax laws change every year and there are so many potential income tax deductions and credits that it makes sense to keep all of the documents you might need in an expanding file labeled "This year's Tax Return." Separate documents into their base components - -education, child care, real estate, etc. -- and keep them in separate folders in the file. When tax time comes around you will have everything you need all in one place.
General Information
The general information you need for your tax return is your Social Security number, and that of your spouse if filing a joint return. You will also need your previous year's tax return so you can look up your adjusted gross income for last year.
If you have any dependents living at home who are ineligible to file their own tax return, make a note of their full names, birth dates and Social Security numbers.
Personal Income
Provide all of the documents relating to all the income you received in the tax year. This includes W-2s from employers and all 1099 forms. These can show income received for non-employee compensation, interest and dividends paid to you, retirement income, Social Security income, unemployment income, gambling income, railroad income and state tax refunds. Include a statement showing any alimony or rents or any other income you received.
Business Income
If you had your own business during the tax year you must provide a business profit and loss statement or income statement 1099-B; income from sales and cost basis -- the cost of the goods you sold -- to show your net profit; and any K-1 Forms you have received showing partnership, S-Corporation and Trust income.
Deductions
Deductions come off your gross income. You will need a record of all of your family's medical expenses, including doctor and dentist visits, nursing, prescriptions, miles traveled for medical purposes and health insurance payments; forms showing home mortgage interest you paid for a first and second home and property taxes paid. Other deduction papers may include charitable contributions and costs of volunteer work including mileage, theft losses, union dues, job hunting expenses, unreimbursed work expenses including mileage, tax preparation and state tax returns for previous year.
Credits and Adjustments
Education adjustments include post high school education costs for yourself, your spouse and your dependents and student loan interest you paid. Adjustments for children -- alimony paid plus recipient's Social Security number, child care expenses with address and Social Security number of caregivers, and adoption expenses. Other information needed for credits and adjustments includes foreign taxes paid and contributions to your retirement accounts, relocation expenses, estimated income tax payments you have already made, and overpayment from last year to be applied to this year.