What Individual Federal Income Tax Form Should I Use?
by Gilberto Fuentes ; Updated July 27, 2017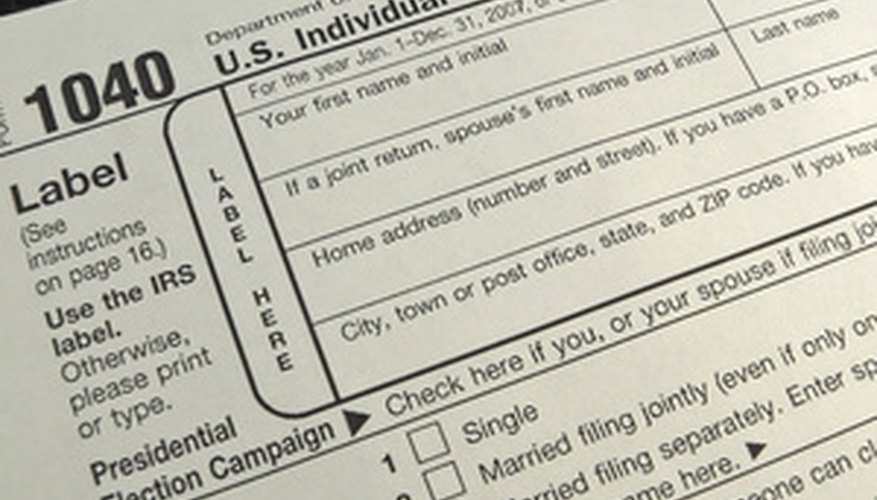 For most taxpayers, federal income tax is filed through the standard 1040 forms. There are four standard 1040 forms that apply to most taxpayers: 1040EZ, 1040A, 1040 and the 1040NR. Depending on your particular financial circumstances one form may be more advantageous than the rest. Speaking with competent tax advisors or doing your own research is important to ensure you receive all the tax credit and deductions to which you are entitled.
1040EZ
The federal income tax form 1040EZ is the simplest form to use to file your federal tax return. According to the Internal Revenue Service, not everyone qualifies to file with the 1040EZ. The 1040 EZ is only available for taxpayers who are either married and filing a joint return or single and under 65 years of age. In addition, filers using this form should not have any dependents and income must be under $100,000. As of 2010, some of the allowable credits you are allowed to take are making work pay and earned income credits.
1040A
However, if you qualify to claim certain credits and meet income requirements you must use form 1040A. The IRS criteria for 2010 federal income tax filings show that you qualify to use form 1040A if your taxable income is under $100,000 and originates from traditional wages, interest, capital gains scholarships, any form of pension distributions, unemployment or distributions from the Alaska Permanent Fund. In addition, form 1040A is ideal if you do not itemize your deductions and claim any one of the following income adjustments: IRA contribution deduction, student loan interest, tuition or educator expenses. You may also use form 1040A if you claim certain credits like child tax, education and earned income credit.
1040
The traditional 1040 is the standard federal income tax form that fits most tax situations. A standard 1040 form is the appropriate form to file for a refund of federal tax withholding on your income from a sale of property or other income subject to income tax. The IRS has minimal standards to help taxpayers determine if filing a 1040 is appropriate. For example married couples filing joint returns whose income is at least $18,700 and claiming only standard deductions and credits may use form 1040. Single filers under the age of 65 with annual income of least $9,350 are also eligible to file a standard federal income tax form.
1040NR
The IRS requires nonresidents of the U.S. to file a federal income tax return with form 1040NR. This form is required for certain taxpayers under certain conditions. According to the IRS, form 1040NR is required if you are involved in business in the U.S. If sufficient tax is not withheld during the year from employment or business, you must file a 1040NR to settle the outstanding tax. Representatives of deceased persons or estates required to file a 1040NR must do so for the tax year in which the income is generated.