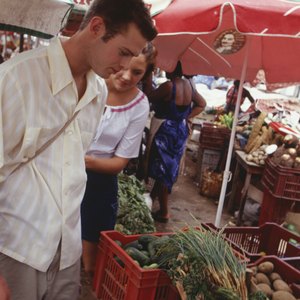 •••
Steve Mason/Photodisc/Getty Images
Food stamps are provided to low-income households in New Jersey to purchase groceries. The program is called NJ SNAP, or Supplemental Nutrition Assistance Program, and is the state's administrator of the federal SNAP program. Eligibility depends on the household's cash resources, income and certain expenses including dependent care, shelter and medical care. Household composition is also a factor, specifically if one member is elderly or disabled.
Household Size and Income Guidelines
In New Jersey, households are eligible for SNAP if gross income is 185 percent of the federal poverty level or less. This amount changes annually. As of October 2014, a New Jersey household of four is provisionally eligible for SNAP with a gross income of $3,677 a month or less.
Applicants must have less than $2,001 in the bank, savings and checking accounts combined. That figure rises to $3,001 if a member of the household is disabled or 60 years of age or older. Approved benefits are credited to a "Families First" card that is used to make purchases.
References
Writer Bio
Catherine Lovering has written about business, tax, careers and pets since 2006. Lovering holds a B.A. (political science), LL.B. (law) and LL.L. (civil law).