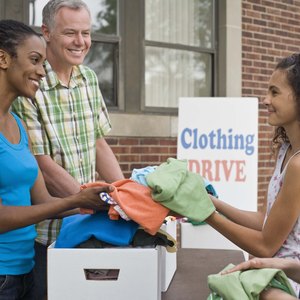 •••
Jupiterimages/Creatas/Getty Images
You might have seen trucks driving through neighborhoods or bins set up in shopping center parking lots to collect old clothes. This indicates there's importance associated to donating clothes versus simply throwing them away. The best types of clothes to donate are ones that aren't damaged; they are simply items you haven't worn in 18 months or so. You can put them to better use than as closet fixtures. Don't forget that you can deduct clothing donations to qualified organizations on your income tax return.
Helps People Who Can't Afford Clothes
Thrift stores run by charitable organizations typically provide the only way the homeless and other disadvantaged people can afford clothes. The organizations you donate to could not afford to carry out their work without your donated clothing items. Organizations such as the Salvation Army and Goodwill regularly sell clothing items at deeply discounted prices. Goodwill uses 82 percent of its revenues for training and employment for people with disabilities. The Salvation Army's revenues from clothing sales go to support a number of community projects the organization supports, such as homeless shelters, rehabilitation centers and family emergency services.
Helps Disaster Victims
Though the Federal Emergency Management Agency prefers cash to help disaster relief efforts, clothing donations also help. Instead of donating directly to FEMA, choose a reputable organization that helps disaster survivors. The Salvation Army, for example, runs an active program for disaster relief. If you have clothes you wish to donate to help disaster survivors, call them or another trusted organization that collects clothing for this purpose. The organization typically will send a truck to your house to pick up the clothing; it will be sorted, packaged and distributed to disaster survivors.
Helps the Environment
When you donate clothes to organizations that sell them in thrift stores, such as Goodwill, you are helping the environment. If people buy used clothing instead of new, fewer new clothes need to be made. This saves the resources used to create new textiles. For example, the polyester fiber production process puts a strain on the environment. Recycling clothing helps the environment in a similar way as recycling bottles, paper and cans does.
Helps People with Disease
Donating clothes helps organizations that help fight certain diseases. For example, the National Kidney Foundation accepts clothing through its local chapters. The clothing you donate goes toward fundraising. The organization uses the money raised to fight kidney disease by setting up early screening and education programs.
Keeps Your House Organized
Living in a state of chaos and clutter, besides being a possible fire hazard, can be detrimental to your emotional health. If you are ever late getting to work because you can't find a particular article of clothing, you likely have too much clothing clutter. A good rule of thumb when deciding what to donate is to keep the classic stuff -- the clothes that stand the test of time -- and donate the rest.
References
Writer Bio
Laura Agadoni has been writing professionally since 1983. Her feature stories on area businesses, human interest and health and fitness appear in her local newspaper. She has also written and edited for a grassroots outreach effort and has been published in "Clean Eating" magazine and in "Dimensions" magazine, a CUNA Mutual publication. Agadoni has a Bachelor of Arts in communications from California State University-Fullerton.