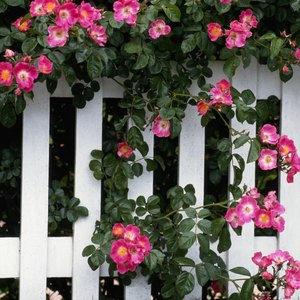 •••
David De Lossy/Photodisc/Getty Images
In the real estate business, curb appeal is known as the frosting and refers to a property's overall appearance from the street, incorporating its age, condition and design. Home seekers often do a drive-by, either virtually or in person to narrow down the best prospects and quickly eliminate undesirable options. So when you're renting or selling a home, attention to curb appeal can influence your success as much, if not more so, than staging your interiors and setting your price competitively.
The Importance of Curb Appeal
What's on the inside may be important, but like books, homes are typically judged by their covers first. Your home's exterior should demonstrate a pride of ownership, inspire curiosity and draw passers-by to look in further. Take a critical eye to analyze, edit and improve. Clearing any clutter from your outdoor spaces will give instant order and air of cleanliness. Attractive containers with seasonal blooms or a fresh layer of mulch in flower beds can add instant appeal in moments with a meager investment.
Consider Important Safety Measures
Like choosing a mate, decisions about a domicile are made with an emotional connection and a need for security. Eliminate shadow-casting shrubbery, illuminate poorly lit walkways and tow away any wayward furniture or broken down vehicles to mitigate the impression of danger and create a homey vibe instantly. Consider the business impact when you need to cut corners on improvements: A well latched window may not be a selling point, but a broken window may be a deal-breaker.
Understand Perceived Value
A well manicured lawn and attractive landscaping add to a home's value in the buyer's mind and often the bottom line. Even if you don't have the funds to spring for large outdoor upgrades, diligence at keeping the grass cut, weeds trimmed and trash picked up go miles toward making a positive impact. A couple coats of paint on the porch, replacing a broken railing and swapping out a sliced screen door are also curb appeal ideas that can make the difference between fair market value and a low-ball offer.
Making Your Home More Attractive
Compare your property to others in the neighboring area. Curb appeal can set you apart from competitors when you strategically highlight the best features of your home and downplay less attractive attributes. Make your property stand out among a sea of similar boxes on the block by incorporating a few curb appeal tips. These include refreshing exterior paint with a classic color or using spotlighting or contrasting hues to call attention to special architectural elements.
References
Writer Bio
Tricia Chaves began her writing career after working in advertising and promotions for entertainment publisher "The New Times." In 2005, she earned her real-estate salesperson license from the state of Ohio and certification for leasing and property management from the Northeast Ohio Apartment Association. She was certified as a life and weight-loss coach and master practitioner of neuro-linguistic programming in 2011.