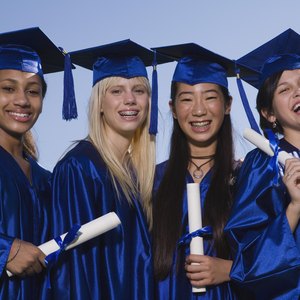 •••
Jupiterimages, Brand X Pictures/Brand X Pictures/Getty Images
Contrary to popular belief, academic scholarships aren't just available to college students. Scholarships often exist to assist middle school and junior high school students so they can afford private high schools or set aside money for college. Illinois eighth-graders have a number of local scholarship programs to choose from, as well as eligibility for nationally offered educational funding.
Chicago Scholarships
HFS Chicago Scholars applications are offered to eighth-grade Chicago students each year. To qualify, a child must demonstrate favorable conduct and financial need and have maintained a grade point average of at least 3.0 throughout the seventh and eighth grades. Accepted students are required to successfully complete a summer learning enrichment course and attend a private high school in Chicago or surrounding suburbs.
The HighSight scholarship program provides Chicago eighth-graders with partial four-year scholarships to attend private high schools, providing that they apply for financial assistance to satisfy the remainder of the tuition. Other terms and conditions of scholarship acceptance include participation in HighSight extracurricular activities and academic study programs.
Privately Endowed Grants
St. Francis high school in Wheaton, Illinois, a college preparatory school, offers numerous scholarship opportunities to eighth-grade students entering their freshmen year. Scholarships are sponsored by private donors and are often renewable. Awards include a $2,000 Spartan Scholars Award; $1,500 Principal's Academic Scholarship; $1,500 Kay Finn Memorial Scholarship; $1,000 Dunlea Family Scholarship; and $1,000 Jimmy Doumos Scholarships, just to name a few. The Daniel Murphy Scholarship Fund provides academic assistance to economically disadvantaged eighth-grade students in the Chicago and Lake County, Illinois, areas. Scholarship applications are available each September and may be obtained through Chicago-area community centers or elementary schools or by visiting the Daniel Murphy Scholarship Fund offices in downtown Chicago.
College and Extracurricular Programs
Certain Illinois colleges sponsor academic programs for middle school children; financial aid is often available. High school and junior high students showing academic excellence are eligible to enroll in the Northwestern University Summer Program. Financial aid and scholarships are available to qualified low-income applicants. Families living in subsidized housing projects and foster children are encouraged to apply. Eighth-grade students in Illinois and across the country may apply for full or partial scholarships to attend the U.S. Space and Rocket Center's Space Camp or Aviation Challenge programs. Scholarships cover tuition, room and board.
Corporate Scholarships
Illinois eighth-graders may also apply or compete for corporate-sponsored scholarships offered to students nationwide. Each year, the J.M. Smucker jam company sponsors the Jif Most Creative Peanut Butter Sandwich Contest — the grand prize is a $25,000 scholarship, and four runners-up receive $2,500 scholarships. The Kohl's Cares program annually awards $350,000 in scholarships to U.S. kids ages 6 to18. National Geographic Society's National Geographic Bee provides $10,000 to $25,000 scholarships to students in grades four through eight. Doodle 4 Google awards scholarships in amounts of $5,000 to $25,000 to students in grades K through 12 nationwide.
Finding Illinois Scholarships
The Illinois Student Assistance Commission provides a plethora of information for parents, teachers and students from preschool through college. By visiting the College Zone website, you may browse listings of scholarships and grants that are available to Illinois-area students. The Scholarship Page website provides listings of grants, scholarships and academic competitions available to students nationwide. More online resources exist to help parents of eighth-grade students find educational financing opportunities in Illinois and across the country.
References
Writer Bio
Michelle Renee is a professional trainer and quality assurance consultant in the career, education and customer service industries, with two decades of experience in food/beverage and event coordinating management. Renee has been published by Lumino and Career Flight as well as various food, education and business publications.