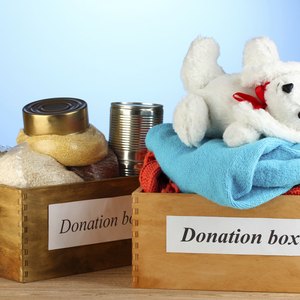 •••
belchonock/iStock/Getty Images
A homeless shelter may serve many demographics such as women, children and those with pets, and it may be a long-term or short-term solution for those in need. If you do not want to donate financially, helpful gifts may include personal-care items for residents or shelter needs needs such as volunteering.
Backpack on Track
Fill a backpack with personal-care items for a woman or man. These could include straight razors, shaving cream, soap, sanitary pads, deodorant, toothbrushes and toothpaste that someone can use at the shelter or take with her in the backpack when she leaves, if it is a short-term facility. For colder climates, winter coats, mittens and hats are vital. Those without a warm place to stay are at extreme risk of exposure, and when they leave the shelter they need appropriate gear. Regardless of climate, clean undergarments and new, proper-fitting shoes and socks also are important.
Keeping Up With Kids
In 2011, the Department of Education identified more than 1 million students as homeless. Add to this the number of runaways, and the odds of children being at a shelter increase. Babies and toddlers need diapers, socks, formula and bottles. Any child older than an infant also needs shoes, and everyone could use new clothes, including underwear. For older children, provide books and educational materials for them to use while at the shelter, and younger children might appreciate stuffed animals or coloring books and crayons to entertain them during their stay.
Feeding Fido and Cleo
Some people without homes have canine or feline companions. Most shelters do not provide items for a pet, but you can. Pack a box with dog or cat food, plastic dishes, and a thick towel or small blanket. If you have the financial means, include a collapsible crate for transportation and to provide a roof over the animal's head.
Shelter for Everyone
A shelter provides its residents with a place to sleep and eat and often a place to clean up. To help with this, give the shelter administrator gift cards to local grocery stores or nonperishable food. Towels, sheets and pillows are used daily, and blankets are necessities residents may be able to take with them to survive colder weather on the streets. A bag of inexpensive plastic rain ponchos serves both homeless individuals as well as volunteers helping outdoors during inclement weather.
References
Resources
Writer Bio
Sheila Smith is a copy editor and writer with more than nine years of experience editing and writing for international media syndicate Tribune Media. Additional clients have included Times Union and Edgenuity. She has been involved with several nonprofit organizations, provided etiquette instruction for cultural and religious events and has experience in event planning.