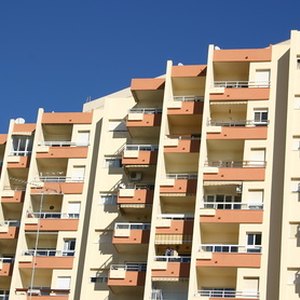 •••
block of apartments image by leafy from Fotolia.com
The US Department of Housing and Urban Development (HUD) has created affordable housing programs for low income households to maintain stability.The housing units have rent restrictions and a rental subsidy is provided to the tenant. These programs are administered through the local Housing Authorities. Acceptance into one of the affordable housing programs is dependent upon funding availability.
Public Housing
Public housing provides affordable rental units to low income households. A rental subsidy is provided to designated multifamily housing units. The tenants of the housing complex pay 30 percent of their income towards rent. HUD pays the remaining portion of the rent. To apply for public housing assistance, applicants must contact the local Housing Authority and submit an application with all the documents verifying income and immigration status. The applicant will then be placed on a waiting list for the next available housing unit.
Housing Choice Voucher Program
Also known as the Section 8 program, the Housing Choice Voucher Program is similar to public housing in that a rental subsidy is provided to low income households. However, the voucher program differs from the public housing program in that the rental subsidy moves with the tenant. The voucher holder is free to live in any rental housing that will accept the Section 8 voucher. The tenant is still responsible for paying 30 percent of their income towards rent. The housing subsidy is paid directly to the owner of the rental unit.
Supportive Housing Program
HUD provides supportive housing programs for homeless individuals. Supportive services are provided to ensure the tenant will be able to maintain their independent lifestyle and housing. These services include case management,counseling, job training, daycare, and medical care. People living on the street, those coming from emergency shelter housing, people fleeing domestic violence and youth are some of the eligible participants for a supportive housing program. Program participants may be required to pay 30 percent of their income towards rent.
HUD and VA Supported Housing (HUD-VASH)
The HUD-VASH programs provides rental subsidy for veterans facing homelessness. Case management and supportive services are required for program participants. To meet eligibility requirements for the program the vet must lack a permanent nighttime residence, or sleeps in a temporary shelter or public place. Typical program participants have a mental illness, a history of substance abuse, and or a physical disability. If the veteran has a family, they will be able to reside in the rental unit as long as the veteran remains in the household and continues case management and supportive services.
References
Writer Bio
Davina Price has been writing since 2003, specializing in grant and technical writing for government and nonprofit organizations. She currently is a licensed real-estate agent in Southern California and specializes in working with first-time home buyers. She holds a Bachelor of Arts degree in communications from the University of Southern California.